The 2023 edition of the Texas Pinball Festival is here and Pinball Magazine is present to report from the show.
With over 400 pinball machines on the showfloor, the Texas Pinball Festival is one of the biggest pinball events in the world. This year, the show will have a recordnumber of new, just announced games the audience can play for the very first time. Pulp Fiction, Foo Fighters, Galactic Tank Force, The Godfather, Final Resistance, as well as rcent titles such as Queen, 007 James Bond, Scooby Doo and others are all present. Add to that a wide variety of older pinball games, going back to the 1930s, and you'll understand this show is something special.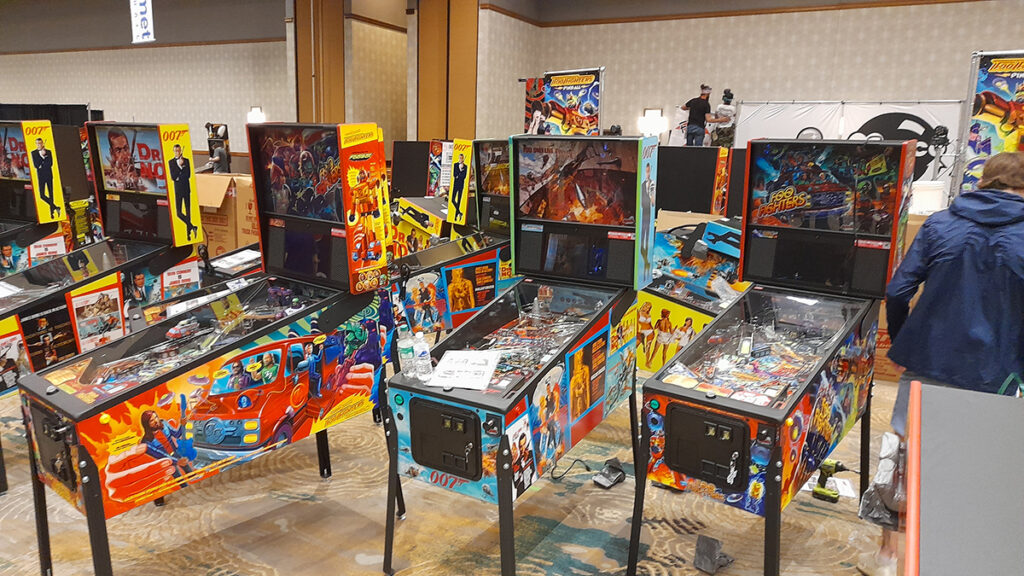 A show of this size requires time to build up. So while the show doesn't open until Friday 5:00 PM, games have been brought in and setup since Wednesday. Besides the huge showfloor, there is also a tournament area on an upper level in the hallway. Tournaments started already on Thursday.
The above photos were all taken on Thursday, March 23, 2023.
Friday: show opens at 5:00 PM, but before that I was able to enter the show floor and play my first game on Pulp Fiction. This turned out to be great timing, as the game had long lines during show hours all weekend long. So I start a 4-player game, with Martin Ayub of Pinball News joining me and two others. I start as Player 1 and as this is a new game to me (and everybody), I didn't bother reading the instruction card. I just start playing and see what happens. Well, what happened is that I find this a game to play, which seems easy to understand. My first ball was one of those balls where everything just works. I ranked up a 3 million something score, plus 1.6 million in bonus, finishing my first ball with 5.1 million points and one extra ball. The other balls didn't go as smooth, as I finished my game with a 5.4 million Grand Champion score.
Game programmer and head of Play Mechanix, George Petro was nearby and I talked to him about the game and how good it is. I think this will be a great game for operators to place in bars and other locations. Why? Because it doesn't seem to be that complex. There is depth, but the game is still easy to understand and great fun to shoot. Any drunk idiot can walk up to this game in a bar and still put up a decent score that he or she will feel good about and have fun doing it. Play Mechanix and Chicago Gaming have a hit game and I hope they can turn it into the success it deserves to be.
When I left the hall a little later I ran into Pulp Fiction game designer Mark Ritchie, who already had received a text mentioning my score. Mark and I go back to the making of Pinball Magazine No. 4, in which his career was documented in-depth. It's always nice to see him and catch up. I congratulated him with his new game and based on the lines to play it, I'm pretty confident this game was the most popular game at the show.
So what about the other new games? I got to play all of them, and they are all good and different from each other as well.
Update: the show is a blast! So many new titles that all play great, but different at the same time.
Due to unforeseen travel issues my attention has been focusing on these. While this report will be updated, check the following links for Pinball News' coverage of the event and personal experiences and comments from various Pinsiders.
This report will be updated and edited during and after the event.