REVIEWS:
FEEDBACK:
"We received a book today. Younger son Nate (4) could not hide his excitement. He recognized couple of pinball machines from our small collection and happily took a picture with a new book. Thanks Pinball Magazine and Santiago for bringing pins back to life and promoting them to the young generations." – Teo
"Hi Jonathan!! Today I receive the book,!!Incredible edition, thank you so much! I'm so happy with the international edition of PINBALL! Everythings looks good, the postcards, the magazine it's wonderfull too, thank you!! Really glad with everything happening. Thank you Jonathan for the amazing quality of this edition!!" – Santiago Ciuffo (Photographer of the book PINBALL)
"Many thanks for the book + mag (and not to forget – the postcards) it looks just stunning! I really really hope that the book will sell well (and I am sure it will) as it is a great contribution to preserve pinball history. I think the book is a gorgeous product with beautiful photos and artwork. I cannot imagine how much work has gone into the project but the effort must have been huge." – Daniel
"I really like the book. The quality is really good. After reading the interview, going through the book is a little bit like feeling the pinball history in Argentina. In the other compendiums the pictures are often crappy, small and you are forced to read the text. This book is more like drinking coffee, relaxing, enjoying, going your on speed." – Kirsten
"I received the book in the mail today and WOW… it is INCREDIBLE!!! Everyone involved did a tremendous job on this project! This is flat out the best pinball photography I've ever seen published. Absolutely amazing sir! We'll keep it here at the Spooky Pinball shop for all that visit to see. :-)" – Charlie Emery (Spooky Pinball)
"Totally agree with Charlie. Received it today as well and it is a work of art! Gonna read it this weekend. Thanks!" – Zaza
"Looks great!" – Jack Guarnieri (Jersey Jack Pinball) (Notice the artwork on the playfield of The Hobbit? SCOOP!)
"The book is really wonderful! Great pictures which remind me so much of James Hamilton's work. It is truly a very impressive book with wonderful photos. And nicely done on the special edition magazine!" – Roger Sharpe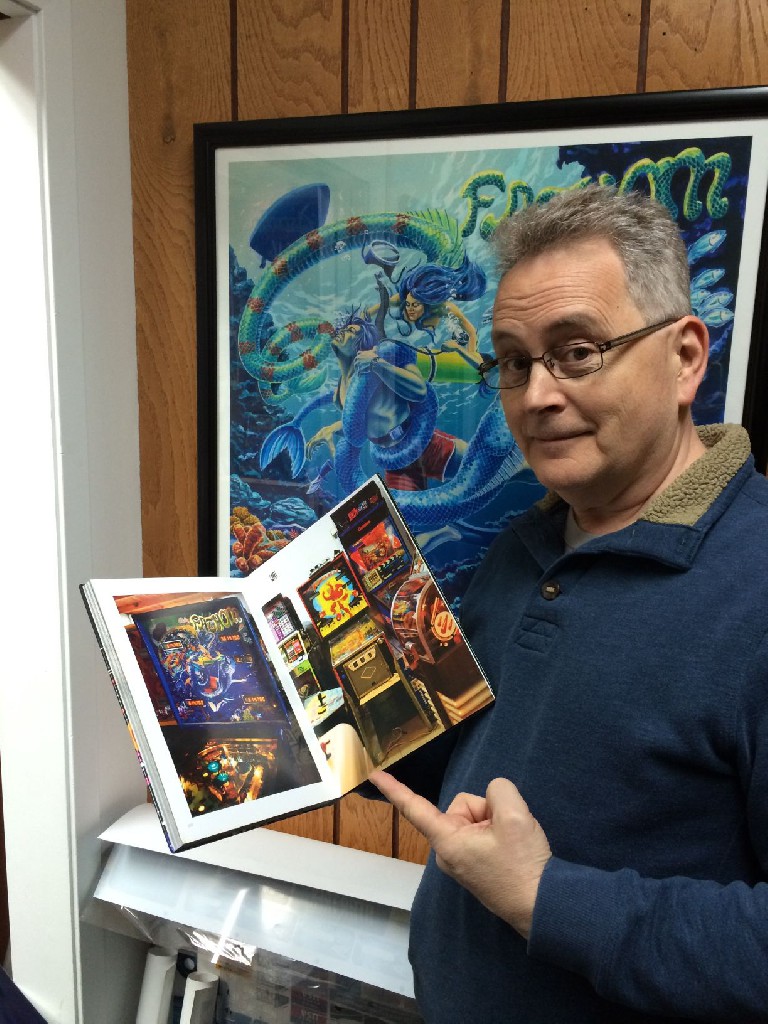 "Quite a volume of work from Santiago in such a short span of time – he has an impressive addiction for pinball. Please send him my regards. It's great to see the enjoyment that pinball has brought to so many people worldwide. Keep up the good work!" – Greg Freres ( Pinball artist, art director at Stern Pinball)
"Great book for a visual guy like me. Lots of images, barely text. Inspirational stuff!" – Jean-Paul de Win (LCD animator for JJP)
"Pinball by Santiago Ciuffo, is a beautiful book. Chock full of pinball themed photos." – PinballEric
"Pinball is an impressive collection of photographs taken by Santiago in 2013. Like any good coffee table book, you can dive in at almost any point and find an interesting and thought-provoking picture to ponder and explore further, discovering details which may never have caught your eye before.
It's also the kind of book someone with no prior interest in pinball can happily leaf through, enjoying the iconic pinball compositions without feeling uninformed or intimidated." – Martin Ayub (Pinball News, fragment from his review)
"I think the book looks great! The picture quality is perfect. There is a nice selection of vintage games. Any pinball fan should own a copy." – Barry Oursler
"WOW, what a pinball book!! Well done…" – John Popadiuk
"A beautiful book. A must have for anyone with an appreciation for the aesthetics of the silver ball." – Pat McMahon (pinball artist)
"I thought the book was very interesting with some fantastic pictures, truly well printed and a good work of art." – Giacomo (Pinball Creative)
"I received my copy today. At last a pinball book with good images. Similar in style to the Roger C. Sharpe /James Hamilton Photography book from 1977 with strong emphasis on the '80s. pinballs. I Love the wonderfull photography, I love the book. If you love pinball this should be a part of your pinball book collection. You wont be dissapointed !!" – Rob
"I bought a copy of the book at the Rosmalen show. It's a very nice book!" – Bart
"I ordered the book together with Pinball Magazine No. 2. I'm very enthusiastic about both!" – Joschi
"I received my copy today and all came in good order. Your packaging is first class and the contents was well protected on its journey to our great southern land. The ten bonus cards are great and I am thinking of making a montage in a large frame for a future games room. The suplement magazine interview with Santiago is cool and interesting to get an Argentinian perspective on pinball. Definitely makes me appreciate how lucky Aussies are with the availability of games from all eras but also good to hear how the collector and enthusiast scene is thriving in Argentina. I like how you have sprinkled different photos next to the article repeats in foreign languages and your ads in the magazine are great….makes the pinball world a smaller and friendlier place by having international ads in the same magazine. There is one in there even for Mike Homepin Thunderbirds, great to see!
Now Santiago's book. For someone who started collecting in 2013, this is an amazing piece of art. Granted, he played EM pinballs as a kid, his work shows that childhood dreams turn into reality through passion and determination. Thank you for making his work international and publishing his great work. The hard cover and quality paper means this book will last for many years. The content is mainly colour photos with close ups of mainly EM and SS machines. There are some DMDs but I think the idea was to showcase the beautiful art of earlier machines still in existance in Argentina. The intro is in black and white with a little bit of pinball history and the specifics about pinball in Argentina. I like the close up shots like the woodrail showing the shooter rod corner. Rarely do you see photos of woodrails so close! Every photo is an adventure, like the shot from inside the barn with open door looking at a tree with piles of junk around it, dog lying on the ground and inside the barn is a workshop and higher up in storage is a 6MDM pinball. Nearly every page I turn to there is a photo of pinballs and my memories flood back of my childhood in shops and arcades. A bit like the little boy in one of the photos so deeply engaged with a machine and generations of others around him. Or the kid with the cool Cyclone t-shirt. Another great book to add to my collection as it is unique to other books and gives a nice Argentine flavour to pinball." – Freiherr
"Got my copy of Pinball in, loving the artwork! Santiago Ciuffo took some amazing pics! Great Job!!!!!! This book is a nice compliment to anyone who collects hardcover pinball books, and is a MUST for any fan of Pinball art." – Eric J.
"Great job getting this book published! I just received mine today and it looks fantastic. The quality of the book is superb and tastefully done. I appreciate the supplement and bonus postcards! Very nice. And great packaging by the way!" – Trevor
"The Book is Amazing! Incredible photos, with outstanding print quality! This is a must book in a pinball collection! I also am a book collector, and can only Rave about the quality of this book…No shortage of rich, vibrant photos, tastefully assembled… It's a gem indeed. If one has even a small interest, you wont be disappointed, it deserves a high recommendation!
With regard to Rogers Book, I had to dig mine up, almost 40 years has gone by…Holy sh@t!, where did that time go? There is enough similarity in flavor… It's pinball… To enjoy what feels the same, and gain a snickering smile, at what is different… It's more than just comparing photos… The flavor of time is enjoyed like fine wine with the two.
I think I am also melancholy, by the fond memory of getting Rogers book as a gift from him in the 1978, I believe the year, at the NY Pinball Show. It was the unveiling of Sharpshooter, and the buzz over the game, and the glamour of a new surge in Cocktail pins. Anyway….worth twice its weight…this is a book that belongs in every collection….." – OldPinGuy
"Got mine early this week, looks fantastic." – Calvin
"Received mine safe and sound, looks great!" – James
"The book is very nice, overall I would rate is 8.5 out of 10. Apart from few very minor issues, I think the book is lovely, and well worth the effort." – Andras Lacfi (Arcade Furniture)
"The book is very good. It's a 'must have' for collectors and connoisseurs of the pinball scene. Likewise, the two books before it, and all of the following …" – Gabor Varga
"Love my new #pinball book that arrived from Pinball Magazine today. Yay!" – Anna Newman (PinballArtist.com)
"When I received the "PINBALL" book from Pinball Magazine I was very impressed by the quality of the printing, the elegant hardcover and the material included, not only graphically, but also in its brief but interesting text (translated to my language in a separate addendum).

I thought: "It would be great to show those great photos and drawings to my Religion pupils at secondary school". Actually we all had a great time taking a look at those colourful elements in the playfields, talking about the skills in this kind of game, learning the different types of machines (electromechanical, solid state electronic…), commenting the cooperative mode when two boys share the flipper buttons, my disciples were thrilled by the dimensión of the cabinets, the main themes that ussually appear (western, space, cards, fair, clowns, sexy girls, cars, terror…), the simple but effective art in both sides of the units, the complexity of the rules involved….

They also could appreciate some good restoring works shown in the publication, some common messages and terms (free play, extra ball, award scores, tournaments and players), and they really enjoyed the close up captions featured in the free 10-pack of postcards included. We even had free time to make a basic pinball drawing in the blackboard and had a little photo sesion with the book and extras included. Thanks to Sandra, Noelia, Lorena, Alejandro, Pablo, Carlos and Francisco Javier for posing!

I must give thanks to this spectacular book by the amazing photographer Santiago Ciuffo; With your pictures, I felt like taking a ride to the past sharing my memories with these children for a while, so I must recommend this book not only for us the pinball fans, but also to all kind of public and families.

It´s a great release at a balanced price from the "Pinball Magazine" publishers Jonathan Joosten and Paul Rubens, I must give you congratulations for this hit and for your superb magazine-pinball bible, that deserves his own review! All the best!" – Jesús María Rey (see the entire photosession with comments on Facebook)
"Sometimes they let me read new stuff" – Donny
"Book, magazine, and postcards arrived two days ago. Super fast delivery, very secure packaging. Great picture book and a worthy addition to any or anyones' library." – Stuart
"We love the book. Very good pics and also super text. Some new info for me in the text. With Martin Wiest you have a very competent and special 'translater' with a lot of experience and know how. I love this!! – Guenter (Pindigiland)
"I still have yet to open mine, it just looks too pretty underneath the shrinkwrap!" – Shaneus
"Got a new book in by Santiago Ciuffo, what a superb photographer, there are some stunning photo's in this book! I just love the atmosphere and it come's alive in this great addition to my pinball coffee table. As i ordered it immediately upon release i did get some goodies with it

" – Nemo (VPforums)
"I ordered mine, thanks for posting this
FYI you can download the supplemental book for free here: http://www.pinball-m…ine.com/?p=1886" – The Loafer (VPforums)
"This looks way better than the pinball book I checked out from the library. I like the artwork on the machines the most. While the history is interesting, a lot of the tables are pure works of art and the book I checked out doesn't have that many good pictures and the ones that are good are pretty small." – H S (VPforums)
"Wow, that looks stunning, seems like he really focused on the details of the artwork. Seems like it would make for a great coffee table book!" – Mukuste (VPforums)