Jersey Jack Pinball reveals Elton John
Posted on October 19, 2023
Jersey Jack Pinball just revealed its newest pinball title: Elton John. The game is available in two editions: Platinum Edition (MSRP $12,000) and Collector's Edition (MSRP $15,000, limited to 1,000 units). The game is designed by pinball industry veteran Steve Ritchie, assisted by apprentice Mark Seiden, and is Steve's first design for Jersey Jack Pinball.
The playfield of the game has several 3D toys, including including an interactive Elton John toy, a rocket sculpture with LED flames, a Tiny Dancer motorized toy, a Crocodile Rock physical lock toy, a grand piano three-ball lock with diverter, and more. The game features the following 16 Elton John classic hits:
Rocket Man
Tiny Dancer
Bennie and the Jets
Goodbye Yellow Brick Road
The Bitch is Back
Crocodile Rock
I'm Still Standing
Pinball Wizard
Saturday Night's Allright (For Fighting)
Your Song
Take Me To The Pilot
Philadelphia Freedom
Levon
Honky Cat
Your Sister Can't Twist (But She Can Rock 'n Roll)
Funeral For A Friend / Love Lies Bleeding
Both models of the game contain the following:
Custom Speech by Elton John
The 16 Elton John Studio songs mentioned above
Piano-Playing Interactive Elton John Sculpture
Grand Piano 3-Ball Lock with Diverter
Micro LED Piano Marquee
3 Multi-LED 'Bennie and the Jets' Bumpers (one apparently under the piano)
Rocket Sculpture with LED Flames
'Crocodile Rock' Physical Lock Sculpture
'Tiny Dancer' Motorized Sculpture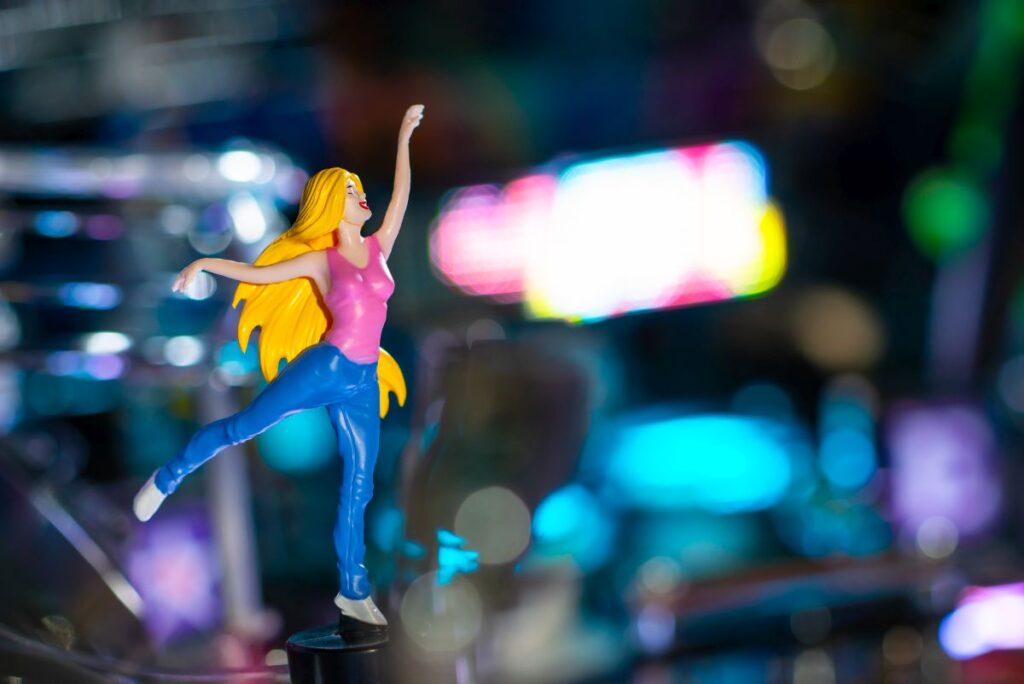 14 Multi-LED Star Inserts
'Rocket Man' Ball Launcher and LED Lit Ramp
RGB LED Action Button for Selecting Songs
'Rocka-Box' 3-Bank Drop Targets
3 Flippers
'Rocket Man' Drop Target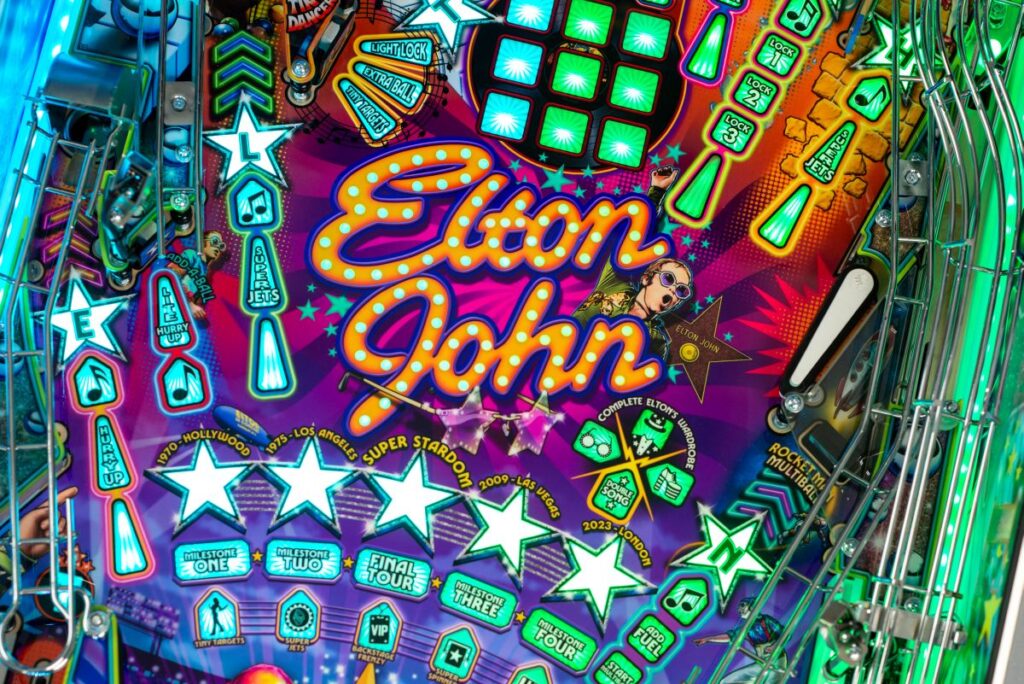 2 Kickbacks
2 Rapid Spinner Target
E-Ticket Up-Kicker
Founder Jack Guarnieri Signature Card
Removable Magnetic Rule & Pricing Cards
Heavy Duty Playfield Magnet
Wardrobe Up-Post
Coil-Driven Knocker
The Platinum Edition comes with the following:
Dual Layer Acrylic LED Topper
Sparkle RadCals with Exclusive Art Package by Christopher Franchi
Exclusive Platinum Edition Art Blades
1,294+ Individually Controllable RGB LEDs
Individually Numbered Platinum Edition Plaque
The Collector's Edition comes with a bunch of extras:
'SUPERSTAR' Topper w/ Dual 10" LCD Screens & Interactive Laser Lightshow
Golden Metallic Laser-Cut Armor
Exclusive Collector's Edition Art Blades
1,570 Individually Controlled RGB LEDs
Sparkle Playfield with Exclusive 'Baseball' Elton
Mirrored Backglass
Interactive Cabinet Light Show with 260+ Individually
Controlled RGB LEDs
Sparkle Bottom Arch
Laser-Cut Action Button Plate
Designer Steve Ritchie Signature Card
Individually Numbered Golden Plaque
Sparkle RadCals with Exclusive CE Art Package by John Youssi & JP De Win
Not listed on the game flyers: the interactive Elton John figurine on the Collector's Edition is different than on the Platinum Edition.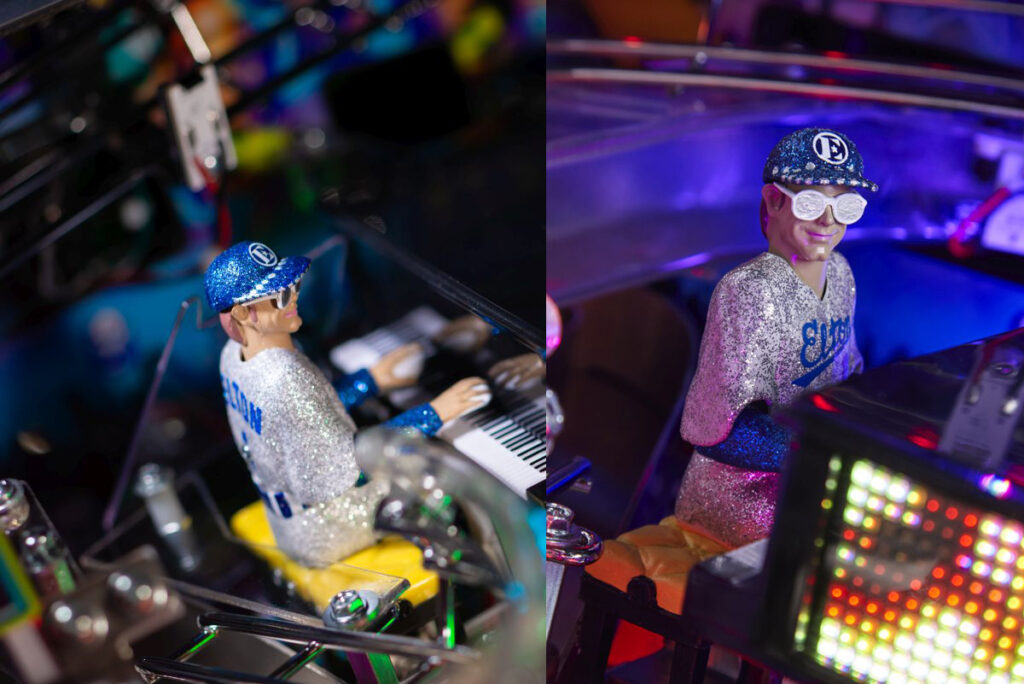 While the game is designed by Steve Ritchie, designing a pinball machine is always a team effort. The team is listed in the outlanes of the game.
Game design: Steve Ritchie
Software: Bill Grupp, Joe Katz, Duncan Brown, Ted Estes, Jason Allen, Taylor Snyder
Art: Christopher Franchi (Platinum Edition), John Joussy & Jean-Paul de Win (Collector's Edition)
Animations: Olaf Gremie, Mark Molitor, Jean-Paul de Win
Designer Apprentice: Mark Seiden
3D sculptures: Evolution Studios
Sound: Pierce Colbert
Mechanical engineering: Dan Molter, Chris Talko, Nick Jensen, Ernesto Velaquez, Dan Lachcik
Electrical engineering and support: Tony Tumminaro, Eric Miller, Ashley Peterson
Later today, October 19, 2023, Jersey Jack Pinball will host a Pinball Expo seminar, starting at 8:00 PM, in which members of the Elton John design team will discuss the making of the game. There are also several invite-only events for distributors and VIPs scheduled. Pinball Magazine plans to attend some of these as well and report on it in Pinball Magazine's annual Pinball Expo report, which is being updated throughout and after the show.