Book: 'PINBALL' – Santiago Ciuffo now available
Posted on May 1, 2014
As mentioned earlier Pinball Magazine got the rights to publish the international edition of PINBALL, a beautiful photo book by Argentinean photographer Santiago Ciuffo. The book (hard cover, 208 pages, 11.3 inch x 8.7 inch) is now available and can be ordered in the Pinball Magazine webshop.
To get an idea of the photos in the book, see the pictures below:
Click READ MORE below for more photos and info of PINBALL by Santiago Ciuffo >>>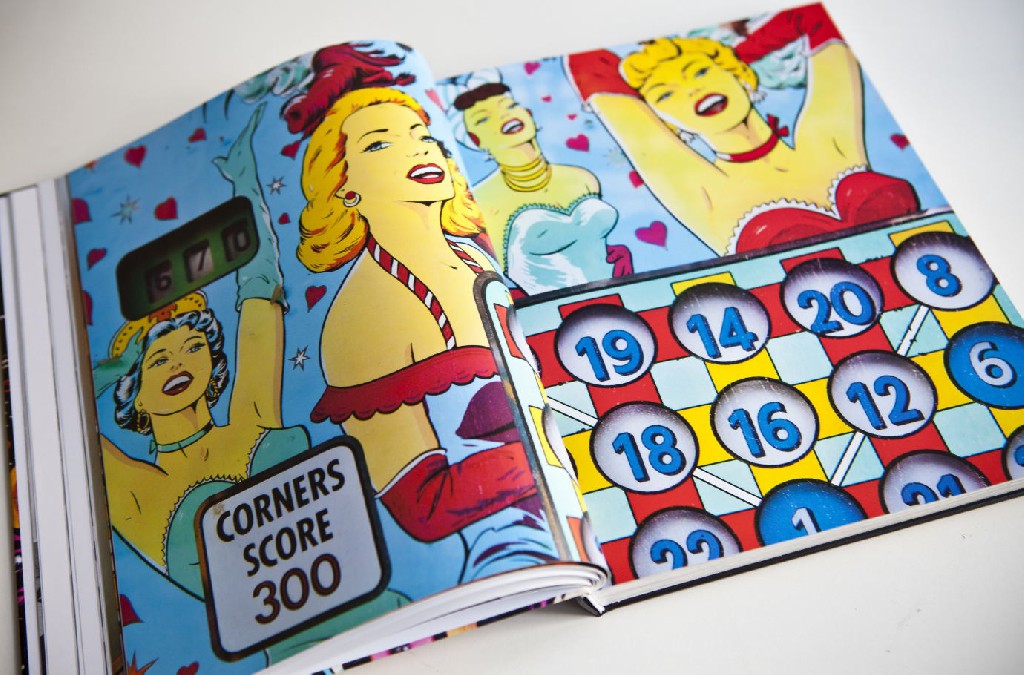 Argentinean photographer Santiago Ciuffo has captured the Argentinean pinball scene in a wonderful series of full page photos. This book shows his best work. The photos in this book mostly focus on bingo and pinball machines manufactured between the mid '50s and mid '80s by companies like Bally, Williams, Stern Electronics and D. Gottlieb, as well as some rare games from small European manufacturers.
Besides giving an inside look on pinball in Argentina, the book also showcases the often forgotten art on pinball machines. Ciuffo's eye for detail is shown in photos of games with artwork by artists like Roy parker, George Molentin, Gordon Morison, Doug Watson, Christian Marche, Paul Faris, Greg Freres, Kevin O'Connor and others.
For the first time ever a book on pinball is being published in thirteen different languages, covering some general pinball history, as well as interesting stories about the history of pinball in Argentina. Inside the book you will find the English, French and German translations. The other ten languages (Danish, Dutch, Finnish, Hungarian, Italian, Norwegian, Polish, Portuguese, Spanish and Swedish) are available as additional supplements (to be ordered separately).
The international edition (208 pages) contains even more photos than were published in the original first Argentinean print (180 pages). It also comes with a printed 80-page special edition of Pinball Magazine, featuring an exclusive interview with Ciuffo in twelve language. This special supplement magazine contains exclusive photos by Ciuffo which do not appear in the book. There is also a digital version of this special supplement magazine, which can be downloaded for free below!
[wpdm_package id=9]
(Pre-order) bonus: Free set of postcards
For the first 500 (pre-)orders there's a free set of 10 exclusive postcards with photos by Ciuffo that were not published in the book. These postcards will also be distributed separately at various pinball shows, but never as a set. (Pre-) order the book now to make sure you get the complete set as well.
Summary:
Hardcover photobook: 208 pages
Dimensions: 28,6 cm x 22 cm x 2,3 cm (11.3 inch x 8.7 inch x 0.9 inch)
Printed version of special supplement magazine: 80 pages
Free set of 10 exclusive postcards (limited to the first 500 orders)
Additional language supplements: 8 pages (to be ordered separately)
Price: 30,95 Euro ($ 42,71 USD) + shipping*
Improved packaging: The book will ship in a special cardboard box to prevent it being damaged during shipping.
* Please note: Pinball Magazine ships its products once a month to qualify for a more economical postal rate. In case of a new product more frequent shipments are likely.