Texas Pinball Festival 2023 report
Posted on March 24, 2023
The 2023 edition of the Texas Pinball Festival is here and Pinball Magazine is present to report from the show. Please note that my travel companion Martin Ayub of Pinball News has written a very in-depth report on TPF 2023 as well, which covers everything. Therefore, this report will be more like a personal diary, as there is no point in reporting the same thing twice. Martin and I also recorded our monthly Pinball Magazine & Pinball News PINcast, in which we discuss the pinball industry news of March, which evolved around the Texas Pinball Festival.
Before heading to Frisco, where the Texas Pinball Festival is held, Martin and I headed to Round Rock, Texas, to visit Multimorphic. This company manufactures the P3 pinball platform, which is a pinball machine with interchangable playfield modules that fill the top third of the playfield area. The lower 2/3 of the playfield contains a large LCD that displays the playfield artwork, with the physical balls rolling on top of it. Last year, the company launched their highly successful Weird Al's Museum of Natural Hilarity game, which probelled them into the big league.
Since my last visit, in 2019, Multimorphic expanded by going from one factory unit to two, partly due to the success of the Weird Al game.. Company founder Gerry Stellenberg was kind enough to take time out of his busy schedule, preparing for TPF, and give us a tour of the facility. The company has developed a new playfield module for the P3, for a game called Final Resistance. Martin and I were able to play the game in the Multimorphic showroom. Developed by Scott Danesi (Total Nuclear Annihilation, Rick and Morty) and his team, it looks like another winner for Multimorphic. The game has a similar sound and music as Total Nuclear Annihilation, but is also different in many ways. Personally, I feel this game is closing the gab between traditional pinball and previous P3 games due to the use of static inserts on the LCD playfield. Contrary to previous P3 games, the interactive visual images and FX on the display are rather subtile, which helps the game to appear more as traditional pinball. I think that many who may have been in doubt wether the P3 system is something for them, now may decide in favor of the P3. So, a job well done by Danesi and his team.
Following our tour, Gerry sat down with us to record an interview that is part of our free March Bonus PINcast.
Following our visit to Multimorphic, Martin and I stayed in the area and traveled to Frisco on Thursday, March 23rd.
With over 400 pinball machines on the showfloor, the Texas Pinball Festival is one of the biggest pinball events in the world. This year, the show will have a recordnumber of new, just announced games the audience can play for the very first time. Pulp Fiction, Foo Fighters, Galactic Tank Force, The Godfather, Final Resistance, as well as recent titles such as Queen, 007 James Bond, Scooby Doo and others are all present. Add to that a wide variety of older pinball games, going back to the 1930s, and you'll understand this show is something special.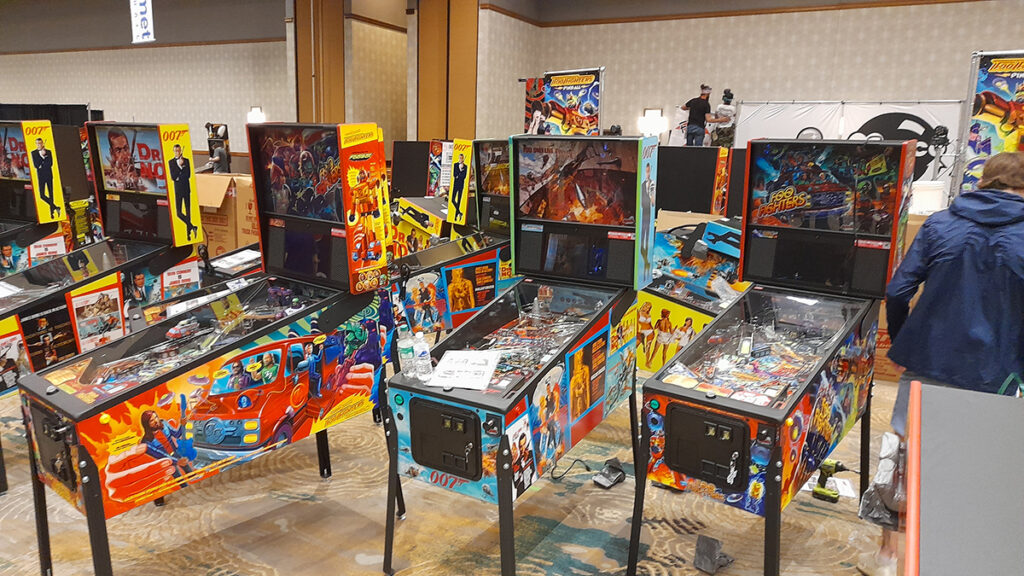 A show of this size requires time to build up. So while the show doesn't open until Friday 5:00 PM, games have been brought in and setup since Wednesday. Besides the huge showfloor, there is also a tournament area on an upper level in the hallway. Tournaments started already on Thursday.
The above photos were all taken on Thursday, March 23, 2023. During setup, we found Daniel Jansen, CEO of Pinball Brothers, who was available to sit down with us in a back room and discuss the recent developments with Pinball Brothers, their contract manufacturer Pedretti Gaming, and their joint-venture Euro Pinball Corp. This interview is also part of the earlier mentioned free March Bonus PINcast.
I also got a chance to play the Pinball Brothers' Queen game again, which had just received a new code update (0.90). Compared to the code from October of last year, which was pretty bare, this game is shaping up to be better and better. While some may have had their doubts about the use of live music, instead of studio recording, that doesn't bother me at all. Very fun game to play.
Friday morning I was able to prepare the slideshow with questions for the So you Think You Know Pinball quiz, that would take place the next day at 6PM. During the day, I was on and off the show floor, collecting prizes for the quiz from various manufacturers. This year, prizes were donated by (in alphabetical order): American Pinball, Chicago Gaming, ColorDMD, Dutch Pinball, Dutch Pinball Museum, Jersey Jack Pinball, Multimorphic, Pedretti Gaming, Play Mechanix, Pinball Brothers, Pinball Magazine, Pinball News, Spooky Pinball, Stern Pinball, and Wormhole Pinball. A big thank you goes out to these sponsors, else the quiz wouldn't be possible.
Besides collecting prizes from various manufacturers, I was able to record an interview with Chris Turner of Turner Pinball. Much to my suprise, the company brought a prototype of their first game Ninja Eclipse. At that time, I couldn't play the game, and intended to play it later, but that didn't happen during the weekend. The interview with Chris Turner is part of a bonus episode of the free March Bonus PINcast, which also includes an interview with Jack Guarnieri, founder of Jersey Jack Pinball, which was recorded after the show.
Before the show opened I was able to play my first game on Pulp Fiction. This turned out to be great timing, as the game had long lines during show hours all weekend long. So I start a 4-player game, with Martin Ayub of Pinball News joining me and two others. I started as Player 1 and as this is a new game to me (and everybody), I didn't bother reading the instruction card. I just start playing and see what happens. Well, what happened is that I find this a great game to play, which seems easy to understand. My first ball was one of those balls where everything just works. I ranked up a 3.4 million something score, plus 1.6 million in bonus, finishing my first ball with just over 5 million points and one extra ball. At that point I think I was one mode away from getting to the wizard mode in the game. Unfortunately, the other balls didn't go as smooth, and I finished my game with a 5.28 million Grand Champion score.
Game programmer and head of Play Mechanix, George Petro was nearby and I talked to him about the game and how good it is. I think this will be a great game for operators to place in bars and other locations. Why? Because it doesn't seem to be that complex. There is depth, but the game is still easy to understand and great fun to shoot. Any drunk idiot can walk up to this game in a bar and still put up a decent score that he or she will feel good about and have fun doing it. Play Mechanix and Chicago Gaming have a hit game and I hope they can turn it into the success it deserves to be.
When I left the hall a little later I ran into Pulp Fiction game designer Mark Ritchie, who already had received a text mentioning my score. Mark and I go back to the making of Pinball Magazine No. 4, in which his career was documented in-depth. It's always nice to see him and catch up. I congratulated him with his new game and based on the lines to play it, I'm pretty confident this game was the most popular game at the show.
So what about the other new games? I got to play all of them, and they are all good and different from each other as well.
The Godfather has a very interesting playfield layout with many paths the ball can travel. As any Jersey Jack Pinball game, the game has incredible depth and the player has strategic options to choose from as well. I love all the details put into the game.
Scooby Doo isn't a TV-show I liked as a kid, so I didn't expect the pinball game to appeal to me. How wrong was I? This is a very fun game to play and incredibly fast for a widebody game. It takes a few shots to the upper playfield to figure out how to use the left flipper to divert the ball onto the mini playfield, but every new game has a learning curve. The cartoon sounds seemed very well integrated in the game and I was really surprised to like this game so much.
Foo Fighters turned out to be a surprisingly flowing game. The alien invasion theme and music are a bit far-fetched for my personal taste, but what a great playfield layout. Martin and I played a bunch of game on the Saturday night and we kept starting another game until the show floor closed.
Saturday morning is always an early start as the swap meet is starting at 8:00 AM in the parkinglot of the convention center. This year, I didn't find anything of interest to me that I can take on a plane as hand luggage, but it was nice to attend.
Saturday late afternoon Martin and I started preparing our So You Think You Know Pinball quiz, which is held in the bar area of the Embassey Suites hotel. All the available prizes are spread out on several tables, each of them getting a numbered ticket. The corresponding tickets are put in a jar. The audience is asked to participate in the quiz, free of charge. A quiz question is asked with two possible answers to choose from. Who thinks it's answer A moves to one side of the area, who thinks the correct answer is B, moves to the other side of the room. The side with the right answer moves on to the next question, the ones who got it wrong are out for this round, but can join in again once prizes have been awarded to the few that remained with no worng answers. This repeats until we're either out of time, or out of prizes.
This year, the quiz draw a great crowd who were really into it. It was a lot of fun. Unfortunately, we had the batteries die on both mics, which caused for a little break in the middle of our quiz, but we made that up by running a little over time. Thanks to all sponsors and participants for making this such a great edition! We hope to be back next year.
Due to unforeseen travel issues that I was made aware of Friday afternoon (I was informed that due to a strike in Germany, my returnflight was cancelled and instead of flying back on Sunday evening, I was rescheduled to fly back on Thursday, without any compensation for extra costs), I spent quite some time trying to reach customer service of my travel agent and airline, without any luck. Unfortunately, that caused me to miss a lot of the show when it was open to the public. From what I understand, it was very busy, with long lines waiting to play the new titles. To read how other experienced the show, check out these personal experiences and comments from various Pinsiders.
As texting or calling with customer service either didn't work, or only caused more frustration, I decided to leave the show early on Sunday, in order to try to solve my situation at the airport. Big thanks to Scott Danesi and the team of Pinball Life, who offered me a ride to the airport. Showing up early paid off, as a very kind ground stewardess from American Airlines was able to book me on an earlier flight to London, with a connection to Dublin and Amsterdam. I had 20 minutes to catch that flight, but made it 🙂
While this wasn't the TPF I was expecting, it still was a fenomenal show. Many thanks to Ed and Kim VanderVeen, Paul McKenney, and all volunteers for making this show such a wonderful experience. While Ed and Kim are retiring from running the show (a million thanks for all you've done thoughout the years), Paul is planning to continue organizing the show. The dates for 2024 are March 15-17. I hope to see you there.