Coming soon: PINBALL by Santiago Ciuffo
Posted on March 27, 2014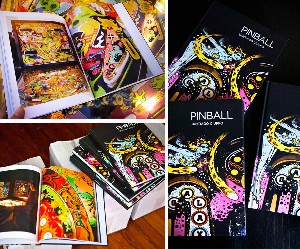 As reported earlier Pinball Magazine has acquired the rights to publish Santiago Ciuffo's PINBALL book internationally. As this is being typed, the last details are finalized and the book is still expected to go to print this month (March 2014).
Contrary to earlier reports the book will not be published in 6 languages. We're already at 12 and a 13nd is being worked on! The most logical way to deal with these languages seemed to include English, French and German in the book. The other languages (Danish, Dutch, Finnish, Italian, Norwegian, Polish, Portuguese, Spanish, Swedish and potentially Hungarian) will be published in separate supplements.
As soon as the book is being printed the web shop will be updated and the book will be available to be (pre)ordered. For those who don't want to miss out on the first opportunity to pre-order the book: please make sure you are subscribed to the Pinball Magazine Newsletter. Subscribers will be informed about the book as firsts.