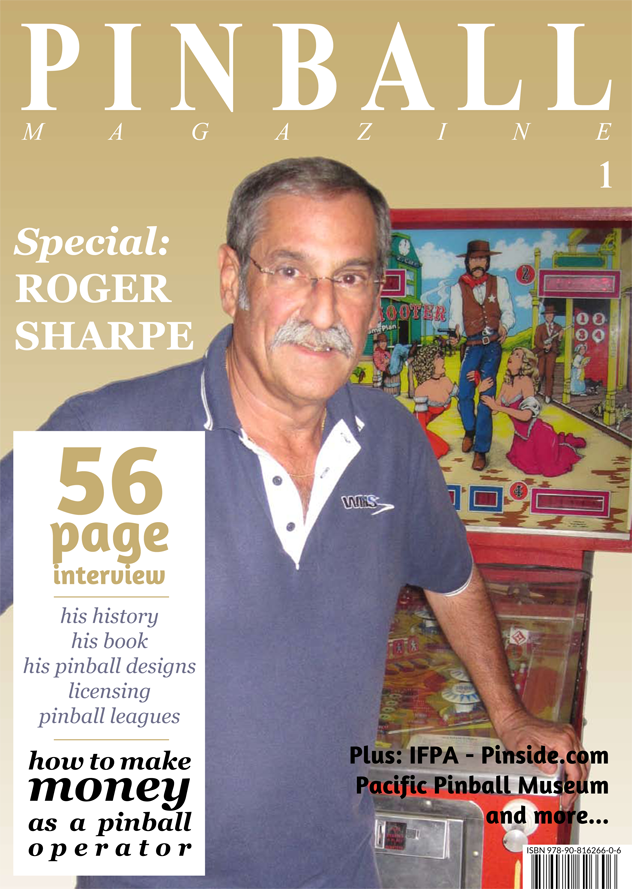 The sub menus, as well as the links below indicate what some of the the content of the first issue of Pinball Magazine is like.
Contents of Pinball Magazine No.1, 112 full color pages on quality paper:
The most complete interview with Roger Sharpe ever, including:
how he got into pinball
the story of his testimonial which resulted in the legalization of pinball in New York City
his books, including 'Pinball!'
his pinball designs, including Sharpeshooter, Global Warfare (prototype only), Barracora and more
the story behind The Muppets Haunted House Adventure, his pinball styled redemption design from 2000
how he re-introduced licensing to pinball and several licensing related anecdotes
how pinball enthusiast like yourself can help to bring back pinball into street-locations
how pinball operators can improve earnings on their pinball machines
how to do PR for pinball and/or pinball events
pinball leagues
memories of Roger on working with the late Steve Kordek
comments on the pinball industry, the Pinball 2000 project, Stern Pinball, Jersey Jack and his Wizard of Oz game
some surprising plans and anonymous projects from the past
and much more
Others about Roger
including contributions by Steve Epstein, Larry DeMar, Greg Freres, Dennis Nordman, Mark Ritchie, and others
International Flipper Pinball Accosiation 2.0
Josh and Zach Sharpe, sons of Roger, talk about the success the new IFPA has become
A look on the inside of Pinside.com
An interview with Robin and Martijn van Mourik, two Dutch brothers who's Pinside hobby project became the largest online pinball community
Exploring the Pacific Pinball Museum
Founder Michael Schiess takes us on a guided tour through the rooms of the museum and talks about Pacific Pinball as well
Specialty collectors
Jeremy Fleitz talks about collecting full size Game Plan pinball machines
and more
Links to fragments of articles:
Coverstory: Interview with Roger Sharpe
Others about Roger: Larry DeMar
Typos in the first edition of issue No.1
Links to related articles:
Roger Sharpe interview
Pinball machines are moving into family rooms and dens Ping! by Roger Sharpe, published in the New York Times, December 28th 1975.
COUNCIL APPROVES PINBALL MEASURE; Vote Would End Ban … New york Times article on Roger Sharpe's testimony that legalized pinball.
Flipside Magazine Archives Digital archive of The Flipside magazies, which Roger Sharpe silently (using various names) edited.
Pinside.com article
Visit Robin's profile page: Profile page of Robin van Mourik, founder of Pinside.com
Visit Martijn's profile page: Profile page of Martijn van Mourik, co-founder of Pinside.com
Interview with Robin van Mourik on Pinballhead.com
Pacific Pinball Museum article
Link to the website of the Pacific Pinball Museum
IFPA article