Pulp Fiction pinball revealed
Posted on March 14, 2023
Following years of speculation and rumors, Play Mechanix and Chicago Gaming Company finally revealed a new Pulp Fiction pinball machine. The game is available in two models: Special Edition and Limited Edition.
Pulp Fiction was developed in a collaboration between Play Mechanix and Chicago Gaming Company, and is being sold exclusively through Chicago Gaming Company's pinball dealers.
Pulp Fiction is a retro-inspired full-featured modern pinball machine. Developed at the request of Quentin Tarantino who wanted an 1980's style Pulp Fiction themed pinball machine for his home. Tarantino's continued involvement throughout the project shaped the final game. Tarantino rarely licenses his intellectual property, it is a unique privilege to produce a game which pays tribute to this masterpiece.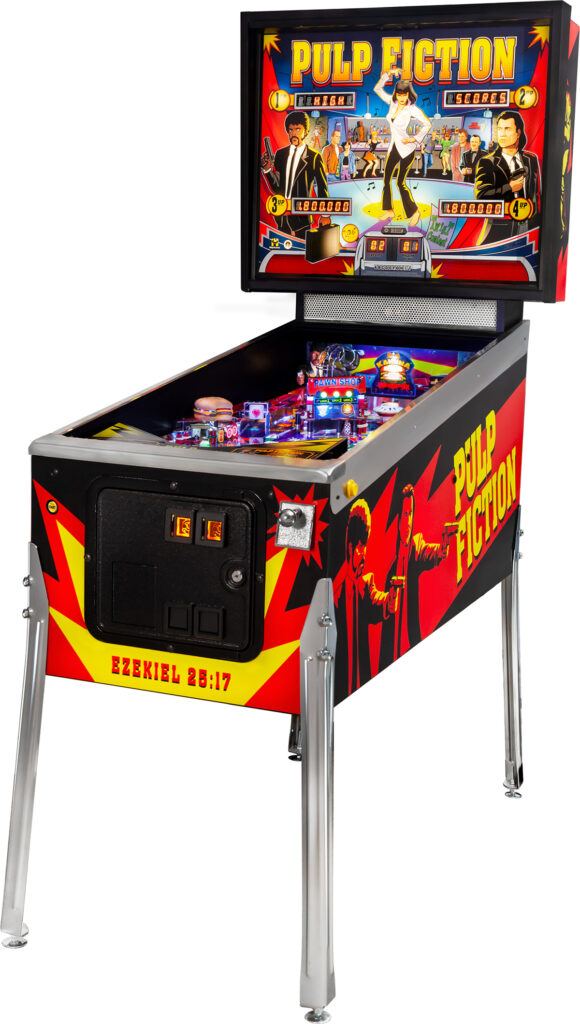 Pinball designer Mark Ritchie masterfully crafted a playfield which on its surface appears comparable to games from this era but outside of initial perception features more mechanisms and greater depth than most games produced today. David Thiel forcefully pulls the player into this world utilizing over 250 iconic lines from Pulp Fiction's legendary cast, five licensed songs from the original movie soundtrack, and a number of original compositions. Josh Sharpe developed an approachable rule set that is both intuitive and deep enough to engage even the most skilled player.

o 250+ Iconic Lines of Pulp Fiction Dialogue Featuring 19 Movie Characters
o 5 Licensed Songs from the Pulp Fiction Soundtrack – Comanche, Jungle Boogie, Misirlou, Son of a Preacher Man & You Never Can Tell
o Mirrored Backglass with Custom Hand-Drawn Artwork from Pulp Fiction's Legendary Jack Rabbit Slim's Dance Scene
o RGB LED General Illumination Lighting, 15 RGB LED Featured Inserts, RGB LED Lower Arch Lighting
o Vintage Stainless Steel Coin Door with LED Pulp Fiction Logo & Start Button on Door (Non-Coin Operated Models ONLY)
o 4 Memory Drop Targets, 3 Drop Targets, Pawn Shop 3-Ball Subway Lock, Briefcase 3-Ball Lock; Knocker Assembly
Pricing for the game at PinballStar Amusements is as follows:
Limited Edition: $9,500, with a $1,000 deposit
Special Edition: $8,000, with a $500 deposit

For more info on Pulp Fiction pinball, visit the Chicago Gaming website.