American Pinball reveals Legends of Valhalla
Posted on October 23, 2021
American Pinball revealed Legends of Valhalla as their newest pinball title, available in two versions. The game has an original Viking-inspired theme. Read the official press release with additional info below.
CHICAGO, October 23, 2021 — American Pinball Inc. (API) adds their fourth game, Legends of Valhalla to their growing lineup of pinball machines for arcades, homes, and collectors.
American Pinball, Inc., makers of collector-quality pinball machines for the arcade and home markets including Houdini – Master of Mystery, Oktoberfest – Pinball on Tap, and Hot Wheels, is proud to manufacture Legends of Valhalla designed by Scott Gullicks for Riot Pinball, LLC. Scott Gullocks is a well-known pinball designer coming from the homebrew community. Several years ago he also designed a wide-body game called Wrath of Olympus.
Features
Challenge 16 unique battle modes where you can test your might against Viking Legends on your quest to Ragnarok, "The End of the World."
Overcome the Kraken who will grab the ball via a hidden magnet beneath the playfield and throw it in unpredictable directions.
Prepare for War by building your army, and board your Viking ship to begin Multiball play.
Demonstrate proper Viking values to prove that you are worthy of Valhalla.
Prove that you are skilled enough to call upon the power of the Valkyries. They can assist you in your quest to defeat your enemies who stand in the way of reaching Valhalla.
Utilize the might of Thor's Hammer by activating it via the third flipper button. The power of Thor comes crashing down like a lightning strike, by capturing the ball via a magnet over the top lanes, giving you more control and leading to higher scores.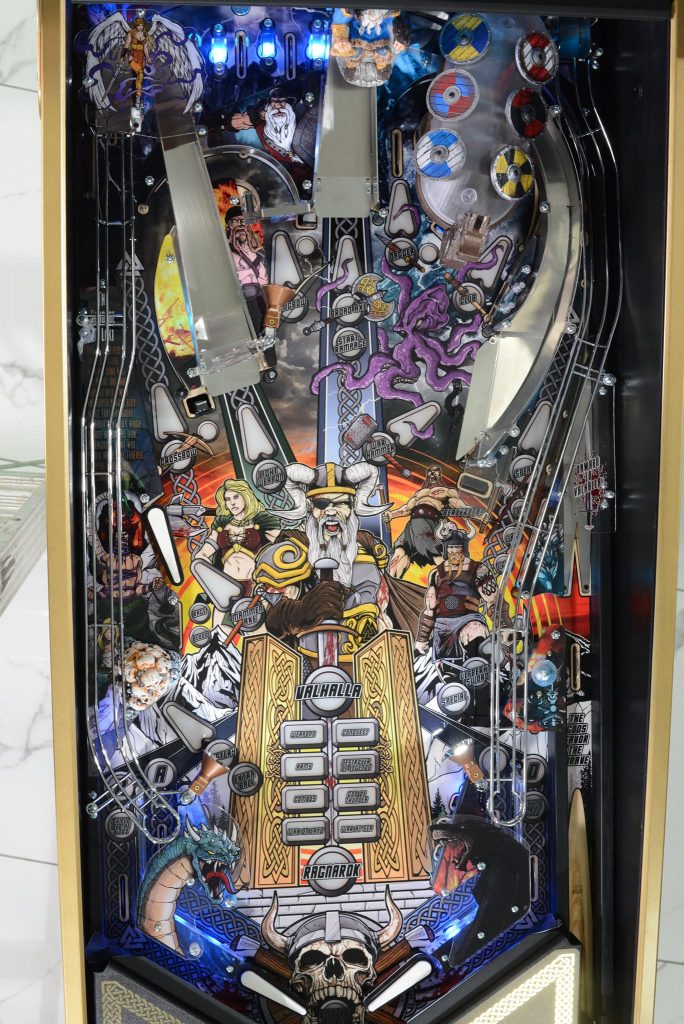 Models
Legends of Valhalla is available in Classic and Deluxe Editions.
The Classic Edition includes black powder-coated rails, legs, backbox hinges, lockdown bar, over 100 RGB lights, interactive Thor's Hammer, hundreds of callouts, 22 total game modes including various Multiball modes.
The Deluxe Edition is limited to 300 units and includes enhanced features such as a mirrored backglass, topper, upgraded powder coated side rails, backbox hinges, lockdown bar and legs, shaker motor, sculpted and hand-painted figures, and anti-glare "Magic" Playfield Glass.
Deluxe Editions are available to order now with an MSRP of $8,395. American Pinball will only be accepting orders for the Deluxe Edition at this time. Pricing for the Classic Edition will be announced at a later date. Classic Editions will ship after all 300 Deluxe Editions have shipped.
Games on Public Location:
American Pinball newest policy is to have games available for public play at the time of the reveal of the game. The following locations have Legends of Valhalla Deluxe Edition available to play now:
Enterrium, 2 Woodfield Mall Unit A, Schaumburg, IL 60173
Pinball Gallery, 81 Lancaster Ave, Malvern, PA 19355
Bang Back Pinball Lounge, 741 Saluda Ave, Columbia, SC 29205
Pocketeer Billiards, 2444 Clinton St, Buffalo, NY 14224
Jackbar, 143 Havemeyer St, Brooklyn, NY 11211
The following locations will have Legends of Valhalla Deluxe Edition available to play the week of October 25:
TILT Pinball Bar, 113 E 26th St #110, Minneapolis, MN 55404
Colorado Pinball Pub, 6209 S Santa Fe Dr, Littleton, CO 80120
Ayce Gogi Van Nuys, 7128 Van Nuys Blvd, Van Nuys, CA 91405
Ayce Gogi West Hills, 6705 Fallbrook Ave, West Hills, CA 91307
Next Level Pinball Shop & Museum, 1458 NE 25th Ave, Hillsboro, OR 97124
CoinTaker, 1437 PA-61, Sunbury, PA 17801
Special Pinball Expo Announcement:
American Pinball will be hosting an Open House on Wednesday, October 27 from 10:00am until 4:00pm. Masks are required.