Stern Pinball announces Avengers Infinity Quest
Posted on September 2, 2020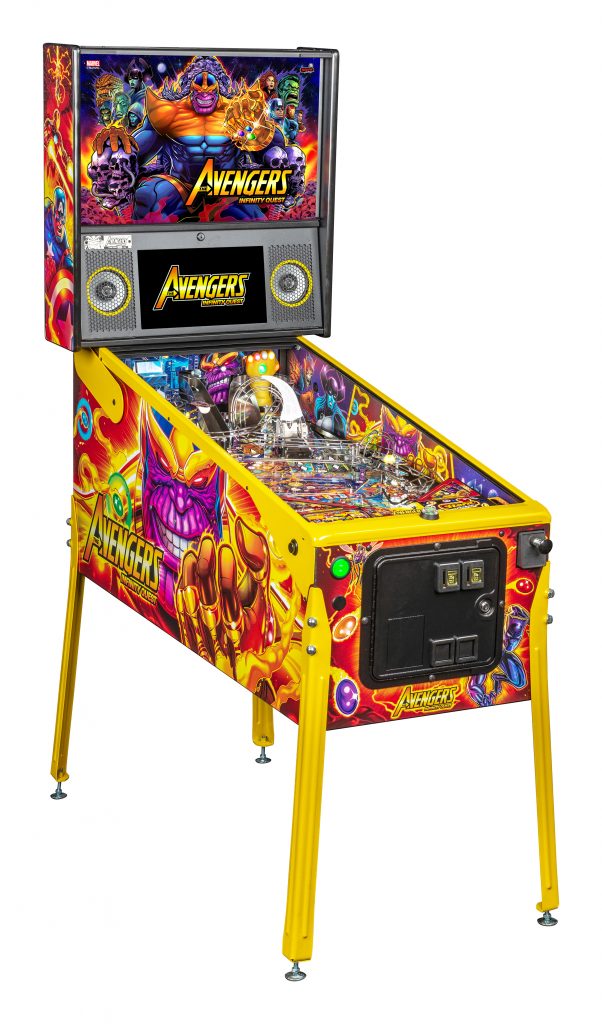 Stern Pinball just announced their next cornerstone pinball game: Avengers Infinity Quest. As with cornerstone titles, the game will be available in three versions: Pro, Premium and Limited Edition (500 units). The game is designed by the same team behind Iron Maiden and Jurassic Park, with Keith Elwin being the lead designer.
It's not the first time that Stern Pinball produced a pinball based on the Avengers. There's also a 2012 model, designed by George Gomez, and a cheaper home model. Plus, various characters from the Avengers had a pinball machine themed around them, such as Iron Man and Spider-Man. Over the years, Stern Pinball produced more games based on Marvel Comics characters.
The new game will be going into production the second week of September, starting with pro models.
Below is the official press release from Stern about the new Avengers Infinity Quest:
Stern Pinball Announces New Avengers: Infinity Quest Pinball Machines
CHICAGO, IL – September 2, 2020 – Stern Pinball, Inc., a global lifestyle brand based on the iconic and outrageously fun modern American game of pinball, announced today the availability of a new line of pinball machines based on the Super Heroes and Super Villains featured in Marvel Comics' hit comic book series Avengers. The Avengers: Infinity Quest pinball machines will be available in Pro, Premium, and Limited Edition (LE) models.
For over 50 years the Avengers have delighted fans through comic books, television series and movies. In this pinball adventure, players will transform into their favorite Super Heroes as they battle Thanos and his minions across the cosmos. On his unrelenting quest for intergalactic omnipotent power, it's a race to hunt down and recover the six Infinity Gems before Thanos gets his hands on them. It's up to the player to stop Thanos and the Black Order from succeeding in this action-packed pinball experience.
"Like the Avengers, our team of designers, programmers, artists, and engineers have assembled to bring this universe to life in pinball form through incredible artwork, design, visuals, and sounds. This comic book universe has remained a staple in pop culture since first appearing in 1963. Through Avengers: Infinity Quest pinball machines, that tradition will carry on for current and future generations of fans," said Gary Stern, Chairman and CEO of Stern Pinball, Inc.
The Pro, Premium, and Limited Edition models all feature an interactive Dr. Strange spinning kinetic sling ring disc with dual direction velocity detection, aiding players on their journey to opening portals and starting Infinity Gem quests. All models feature a gravity defying Avengers Tower magnetic lock ramp with gravitational vari-target and magnet hold, capturing pinballs in midair as players unlock Iron Man Multiball. In addition to distinct hand-drawn artwork, all models feature an Avengers Computer Bingo grid 3-target drop bank, a Thor captive ball, Hulk spinning target, custom intricate wireform ramps, and 3 full size flippers.
The Premium and Limited Edition models feature an interactive Dr. Strange motorized pop-up disc scoop, transporting pinballs into an underground Portal, a visible subway capable of holding and staging up to 3 balls through custom playfield windows accentuated with dynamic RGB lighting effects. These models also include a custom sculpted Thanos Infinity Gauntlet integrated with atmospheric light-up gems, a Captain Marvel inverse gravity custom wireform ramp, and a Pym Laboratories vertical up-kicker.
The LE model is limited to 500 units globally. This limited version includes additional unique features such as an exclusive mirrored backglass, exclusive custom themed cabinet artwork, a custom autographed bottom arch, exclusive custom art blades, upgraded audio system, anti-reflection pinball glass, a shaker motor, and a sequentially numbered plaque.
Pricing and Availability:
Manufacturer's Suggested Retail Price:
MSRP for sales to USA end-users, before any VAT, GST, Sales Tax, Duties, or other taxes.
Pro Model: $US 6,199
Premium Model: $US 7,799
Limited Edition Model: $US 9,199
Avengers: Infinity Quest pinball machines are available through authorized Stern Pinball distributors and dealers around the world.
There was also a separate mailing for distributors, which you'll find below:
"Dear Ladies and GentlemenWe are experiencing fantastic pinball sales in this Covid-19 era. Although our factory has increased production to rates greater than those before we were forced to shut down, this year's production of current model games is nearly sold out. Nonetheless, it is important to maintain the cadence and schedule which we worked so hard to attain — 3 new cornerstone titles each year, in beginning of the year, in the spring, and in the fall. The introduction of a new Stern game at this time will flame the pinball excitement we are all enjoying.
As expected, today we are introducing Avengers: Infinity Quest, a new cornerstone game with Pro, Premium and Limited Edition versions. Avengers is brought to you by the same design team that gave you Iron Maiden and Jurassic Park pinballs.
For over 50 years the Avengers superheroes have battled villains in comic books, television series and movies. The recent movie Avengers: Endgame is the highest grossing movie in history, confirming Avengers' popularity. Marvel characters have proven to be super Stern pinball themes. Avengers: Infinity Quest will prove to be another great Marvel character game.
Study the features matrix and photos of this game to see all it has to offer. You will see it has drop targets, 3 flippers, 3 different multiballs, captive ball, kinetic ball driven spinning disc, 3 easy to understand spell outs, spinning target, and many smooth metal and wire ramps. One of the ramps is so uniquely shaped it can be shot from any of the 3 flippers, never before done in pinball. Another ramp directs the ball straight up a tower to be held by a magnet. Still another ramp has 3 entrances — from the shooter lane, from an orbit shot and from upper loop shots. The LCD animation is original and Zombie Yeti has created hand drawn comic style art.
Avengers: Infinity Quest Premium and LE have even more and different ramps. One is an inverse gravity ramp, entered from the ramp opening or from a VUK. These models' spinning disc has a motorized lift, exposing an underground portal into which 3 balls can be shot; balls are staged and walked under clear inserts to visually show advances. These versions have a molded Thanos infinity gauntlet with light up gems to indicate game progress.
The 500 LE's also contain what every LE should have:
High gloss powder coat armor and legs
Mirrored backglass
LE only inside art blades
Upgraded audio system
Shaker motor
Non-glare playfield glass
Certificate of authenticity signed by me
Designer autograph
Sequentially numbered (1 to 500) plate
Production of Avengers: Infinity Quest Pro games will begin the second week of September. In mid September we will produce the Limited Edition games, finishing all by month end. In October we will start to build Premiums and will build more Pro games.
When we all have gone shopping during this Covid era, we have noticed prices increasing, whether shopping for food, home appliances or anything else. Stern Pinball has suffered the same price increases for parts to make our games. The Avengers: Infinity Quest price of all models is $100 over previous cornerstone games.
We are not changing the price of previous models this year. Starting January 1, 2021, the price of the earlier games will also be adjusted $100. This includes the few that some of you have already ordered for 2021 delivery.
A new UMRP, MAP and MSRP list for Avengers: Infinity Quest will be sent to U.S. distributors and dealers. The existing games will remain unchanged.
Because all LE's will be built in the second ½ of September, we require full payment instead of a deposit to confirm LE orders. Shipments will be scheduled in order of payment received. For the LE there is no CIA discount. Fees remain unchanged to specify an LE number, if available.
Attached are photos, a feature matrix and a press release. High and low res images can be found here.
Jack Danger will stream Avengers: Infinity Quest Premium/LE model with the game team, September 9, at 5 p.m. Chicago time. View Jack's stream at https://www.twitch.tv/deadflip
Jack Danger will stream Avengers: Infinity Quest Pro model on the official Marvel Twitch channel on the front page of Twitch, September 11, at 3 p.m. Chicago time. View Marvel's stream at https://www.twitch.tv/marvel
I have had a Avengers: Infinity Quest Pro in my apartment for weeks. It's a great game. I am having fun. You will have fun too, playing this game and selling it.
Best regards,
Gary
Gary Stern
President
Stern Pinball, Inc."