Report: Ausgeflippt exhibit – Phaeno, Wolfsburg (Germany)
Posted on May 22, 2015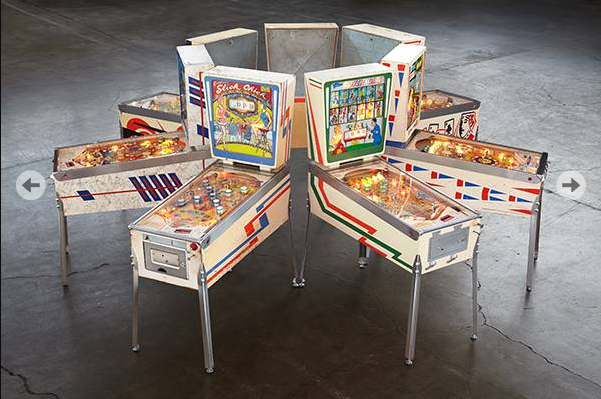 In Pinball Magazine No. 1 we featured the Pacific Pinball Museum in Alameda, CA. In that article Michael Schiess mentioned that he travels around to museums with exhibits which explain how pinball machines work.  Until now this has only been in the States, but not any more: The Phaeno Museum in Wolfsburg, Germany, (home of the Volkswagen factory) is having their Ausgeflippt! (Flipped out!) exhibit.
The Phaeno is no ordinary museum, and it's certainly not a boring one. In fact it's packed with all sorts of cool stuff about physics, electronics and much more.  The Ausgeflipt! exhibition contains a lot more than just some cool pinball machines from the past. Besides several classic Bally / Williams dotmatrix pinball machines there is a selection of vintage electromechanical games, ranging from a bumper game, to woodrails from the '50s, and wedgeheads from the '60s and '70s. They may even exhibit the Helicopters makeover by Wade Krause and Dirty Donny, which has never been shown outside of the States up to now.
There are also some pinball backglass murals hanging above the exhibition, and a special area where unique and rare items are on display. Here you'll find the Pinball Pianola, a star-shaped game containing ten electric guitars that can be played by five players simultaneously, three clear pinball machines – two Surf Champs and a Freedom – and a whole bunch of other cool interpretations and applications of pinball.
You'll also find custom-built exhibition units that explain in a playful way how certain elements of a pinball machine, such as pop bumpers, actually work.
The Phaeno turns out to be a really cool museum for kids and for adults. Adding the pinball exhibition makes it even more worth to visit.  The pinball display is only a temporary exhibit: the Ausgeflippt exhibition ends September 2nd, 2015.
The Phaeno museum is right next to the Wolfsburg train station. Entrance to the museum is only 12.50 Euros per adult, 8.00 Euro for kids, which is a bargain for so much fun.
So, if it's a rainy day during the summer holidays and your kids needs a fun trip, or if you're going to the German Pinball Open in Bremen, or you just happen to be in Germany: see if you can make it over to Wolfsburg. It will be well worth the trip.
Useful links:
Pinball News announcement of the exhibit