Weird Al's Museum of Natural Hilarity revealed, all details here
Posted on February 24, 2022

Following last Monday's announcement that Multimorphic's upcoming licensed P3  pinball game will be Weird Al' Museum of Natural Hilarity, Pinball Magazine now brings you all the details and images about the game.
The Museum of Natural Hilarity is a fantastical museum with exhibits and items that connect players to the Weird Al's songs and his hilarious and descriptive song lyrics. Al acts as the museum curator, welcoming players and guiding them through the museum.
The game features 17 Weird Al songs, over 2000 voice callouts from Weird Al, and a feature-rich playfield, including:
7 ball-launch destinations
5 flippers
3 Pop bumpers
2 Magnet diverters
5 Shot path diverters
2 Static scoops (ticket counter and supplies closet)
3 Ramps:

Left ramp – shootable from 4 different flippers
Right lift ramp w/ 6 possible destinations and a magnet diverter/accelerator
Spiral lift ramp

2 Side loops for figure-8 squeezebox combos
10 Standup Targets
Interactive and spinning hamster wheel/ball lock
Interactive and swiveling UHF camera/ball lock
Upper playfield with 2 entrances, a mini-loop, 3 targets, and a shot to the UHF camera
Outer loop
Mini loop
VIP ticket counter entrance
Moving Harvey scoops
Cross-playfield ramp return
RGB-lit drop target
Full RGB lighting
Songs:
Amish Paradise
White & Nerdy
Like A Surgeon
Word Crimes
My Bologna
Sports Song
Weasel Stomping Day
I'll Sue Ya
Mission Statement
Traffic Jam
Germs
You Make Me
UHF theme
Dare To Be Stupid
Hardware Store
Harvey the Wonder Hamster
Fun Zone
Team:
Creative Director: Stephen Silver (Heist)
Artwork: Matt Andrews (Total Nuclear Annihilation, Magic Girl)
Software: Michael Ocean, Greg Goldey, and Gerry Stellenberg
Graphics: Rory Cernuda and Stephen Silver
Mechanical Engineering: TJ Weaver
Sound: Scott Danesi (Total Nuclear Annihilation, Rick and Morty)
Rules Advisors: Bowen Kerins and Colin MacAlpine
Content Advisors: Frank Serpas III and Will Beals
The upcoming Pinball Magazine & Pinball News PINcast will feature an interview with Creative Director Stephen Silver and programmer Michael Ocean.
For those unfamiliar with the P3 platform, it combines 100% mechanical pinball action with a huge LCD that sits below the transparent playfield surface, displaying interactive scenes as part of the playfield artwork. In this case, the various rooms in the Museum of Natural Hilarity are shown during their corresponding modes.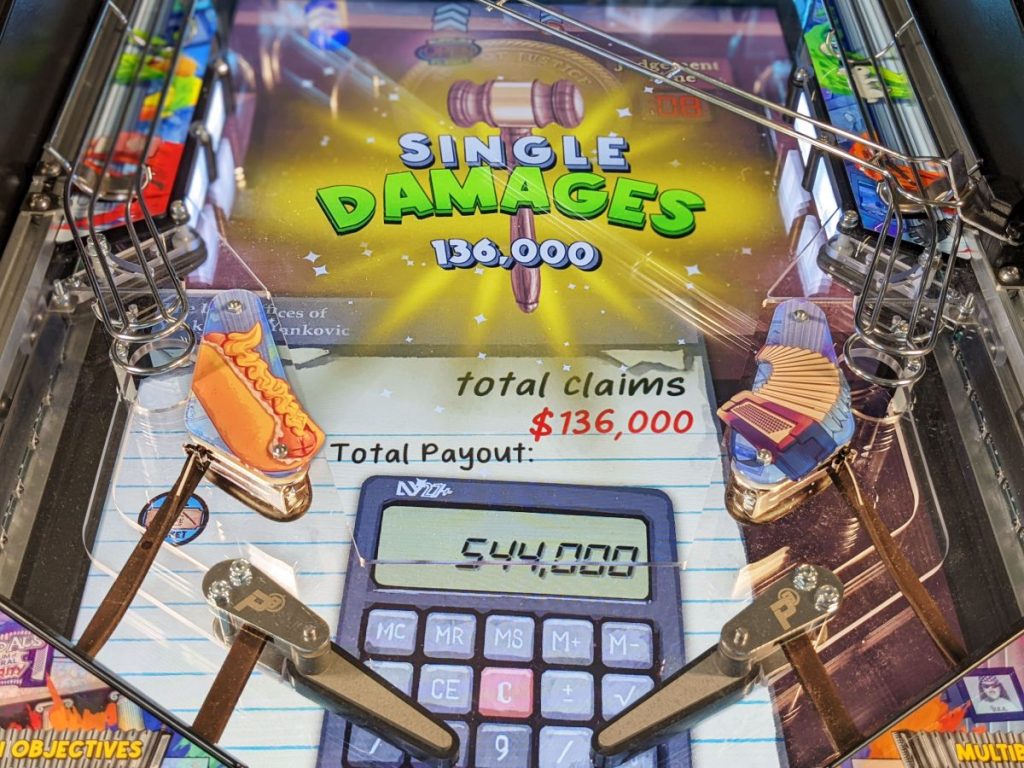 Rules summary:
All balls begin in the museum lobby with Al's instrumental song Fun Zone playing. From there, players can visit five exhibit halls (listed below) and then go to the ticket counter (scoop behind the drop target) to select between the two available song modes for that exhibit. Alternatively, the player can shoot the V, I, and P targets to raise the two center scoops representing a VIP ticket counter. From there, the player can choose any of the 10 exhibit hall song modes.
| | | | |
| --- | --- | --- | --- |
| Exhibition | Shot | Song 1 | Song 2 |
| Anthropology | Left Ramp | Amish Paradise | White & Nerdy |
| Sports & Leisure | Left Side Loop | Sports Song | Weasel Stomping Day |
| Crime & Punishment | Right Side Loop | Word Crimes | I'll Sue Ya |
| Business & Industry | Left Mini Loop | Mission Statement | Traffic Jam |
| Health & Medicine | Right Mini Loop | Germs | Like A Surgeon |
Upon selecting a song mode, theatre-style currents close on the screen. When they reopen, the scene has changed to an immersive environment specific to the chosen song. Each song mode has a unique set of rules that connects physical shots on the playfield with the song's lyrics. After completing a certain number of shots, the ticket counter shot becomes available to exit back to the lobby, or the player can continue progressing in the mode until the full song plays.
When back in the lobby, the player can activate the right lift ramp and spiral lift ramp to access the mezzanine (upper playfield) by rolling over the "meal ticket" inlane icon. The main feature of the mezzanine is the "food court." Here, the player can shoot the "Just" "Eat It" targets to collect food items to light My Bologna and the mezzanine loop to collect spatulas to enable a one-time use outlane ball save rollover target.
My Bologna is a mode with the player building bologna sandwiches via mezzanine loops and targets.
The game contains three stackable multiball song modes that work as follows:
Hardware Store: Hitting the side targets represents items being broken in the museum. After breaking 27 items, the rear hole through the pop bumpers lights for Hardware Store Multiball, during which the player collects tools and helps repair the halls.
Dare To Be Stupid Multiball: Hitting the Harvey standup target causes Harvey to periodically poke his head up (represented by one of the P3 platform's scoops opening) while the song Harvey the Wonder Hamster plays. Shooting the scoop lights the hamster wheel for a Harvey Lock. Shooting the hamster wheel via the right ramp or spiral ramp locks a ball for DTBS Multiball. DTBS Multiball is essentially a game within a game. The player can shoot the mini loop shots to spin the wheel, and the item selected will do several things, including changing the jackpot shots and changing how the flippers work, awarding a gift, etc.
UHF Multiball: Hitting the camera standup targets lights the camera lock. Then shooting the camera lock with the upper flipper locks a ball in the camera. Locking three balls in the camera starts UHF Multiball, where your goal is, of course, to save the station!
One other song mode, You Make Me, is a mini-wizard mode that becomes available after playing at least one song mode in each exhibit hall.
That's the basics, and then other features help you progress, award gifts, or provide scoring advantages. Examples include Squeezebox combos for scoring bonuses, Hawaiian shirt collection that leads to awards and scoring multipliers, and the supplies closet that, of course, includes a lost 'n found that occasionally acts as a mystery award.
After playing all song modes, Running With Scissors lights for a final trip back through the museum where the player relives all of the hilarity within.
Pricing:
Weird Al' Museum of Natural Hilarity will be available in two models:
Standard Edition (SE)
Limited Edition (LE)
The LE Package contains the limited artwork pieces, interactive/moving topper, a printed LE translite signed by Al, and various game-specific swag. None of these items will be purchasable separately.
Base P3 Platform (without a game kit): $8300
Weird Al's Museum of Natural Hilarity Game Kit: $3000 (SE model)
227 Limited Edition Upgrade Packages: $1800 (available to SE Game Kit purchasers, in order).
For more info, visit www.multimorphic.com