December 2018 pinball industry news recap
Posted on January 3, 2019
Here's a new edition of the Pinball Magazine monthly newsletter, this time recapping the pinball industry news of December 2018.
To start things off: Happy New Year and best wishes to you for 2019.
While December wasn't the busiest month in pinball there's still some pinball industry news to discuss. Most of the news below is also discussed in the Pinball Magazine & Pinball News monthly podcast, so feel free to check that as well.
Two Spanish pinball companies, STR Pinball and Quetzal Pinball (who you may know from their Captain Nemo pinball machine), have teamed up and designed a new streetlevel pinball machine called Tokyo Perfect Drift revealed. The game is themed around Japanese street racing and was unveiled early December. While the game code still needs some work, the hardware parts and art package of the game are completely done. Check out this article on Pinball News for all the details.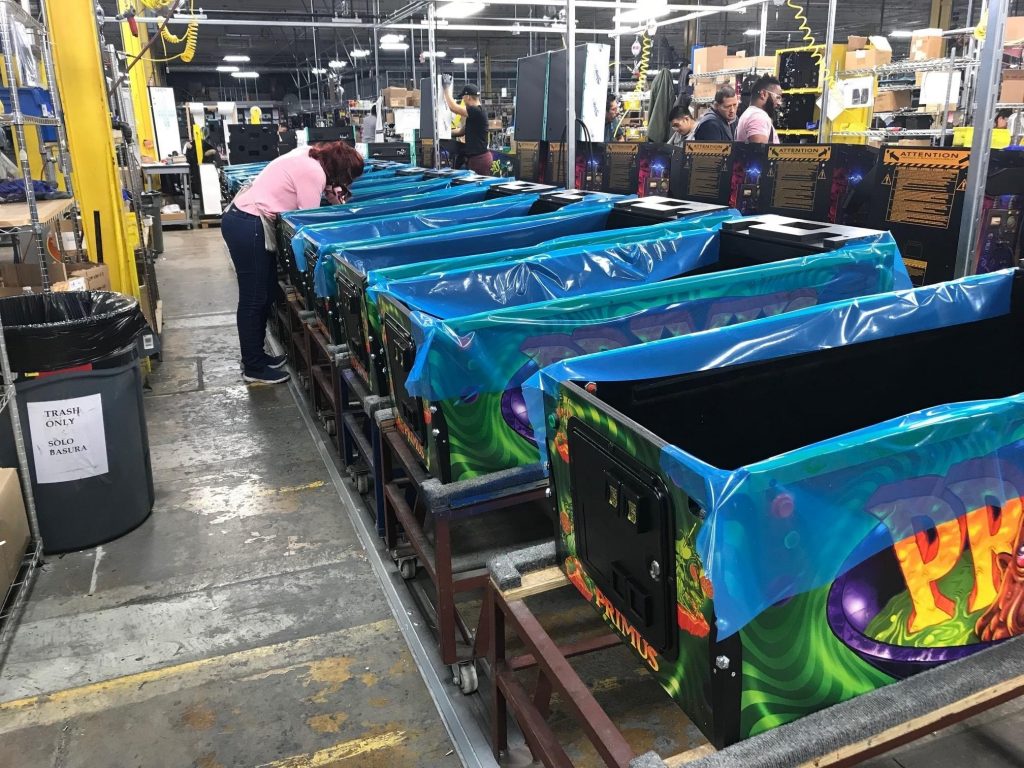 At Stern Pinball they started building and shipping the Primus pinball machine that was announced last month. Reportedly 50 games were built last month and the remaining games will be built in January. On social media a photo from the Stern factory was 'leaked' showing the Primus game being in production, with The Munsters (Stern's next game which hasn't been officially announced yet) being assembled in the background. Apparently one of the Primus games also shipped 'accidentally' with a Munsters manual. The assembled games are likely intended for tradeshows that will take in January such as CES and EAG in London. Stern did just send out a press release that their next new game will be revealed at CES and that Jack Danger from Deadflip will be streaming the unveiling of the new game live on his Twitch channel on January 8th, 11:00 AM PST.
Stern did also launch a new website and they released code updates for Deadpool (0.97), Batman (1.02), Beatles (1.08), Guardians of the Galaxy (1.06) Aerosmith (1.07), and KISS (1.41)
Jersey Jack Pinball started building and shipping the Collector's Editions of Pirates of the Caribbean. The game also saw a new code update (0.98). Congratulations are in order to Jack Guarnieri, founder of JJP, who became a grandfather again after his daughter Jen (also working at JJP) gave birth to Garry Salvatore DiCosmo on Boxing day. Jack Guarnieri also announced that JJP may release more than one game in 2019 in his predictions that aired on the holiday special of the Special When Lit podcast. However, unlike with previous games the company is no longer setting deadlines to have a game ready for a certain show. The game simply will be shown when it is ready to be shown.
Spooky Pinball almost finished production of Total Nuclear Annihilation. Most orders have been fulfilled and they're currently building some more games to have some in stock to sell. In about ten days they will completely focus on the production of Alice Cooper Nightmare Castle. Spooky owner Charlie Emery did predict that Scott Danesi's second game will be even better than his first (which was Total Nuclear Annihilation).
American Pinball released a code update for Houdini (v18.12.12)
Homepin have started shipping games on metal pallets, after several games that shipped on wooden pallets got damaged in transit. Homepin shipped out a new container of Thunderbirds games, which are all headed for Australia. The company is also working on the design of their second game, which will have a theme that is aiming for the Chinese market.
Exactly one year ago Pinball Magazine discovered an ad from the Weche company in Taiwan, where they showed a new type of head to head pinball game called Super Pong Pong Bar. After reaching out to Weche it turned out the game was still in development, but a prototype was presented at the Amusement Expo in Las Vegas in March. The game is also advertised in Pinball Magazine No. 5 on page 274. Last month Taito Japan released video footage of the same game, but with different artwork. It is now called Space Invaders Pinball Jam. For more details check out this article by Arcadeheroes.
Ed and Kim VanderVeen, the organisers of the Texas Pinball Festival have silently been working on opening the Texas Pinball Museum. The museum will start off in a 2,000 square feet location in Midlothian, Texas and will be open on Saturdays only. The soft opening is scheduled for January 19th.
Speaking of the Texas Pinball Festival: pinball designer Barry Oursler has been confirmed for the event that will take place in March. Other pinball designers that have been confirmed include Mark Ritchie, Steve Ritchie and Dennis Nordman. Two members of The Munsters cast and John Rhys-Davis will aslo make appearances at the event.
Pinball Magazine will shipping out a new batch of orders on January 4th. Any orders coming in prior to midnight on January 3rd CET will still ship in this batch. There are still some sets of postcards available when ordering Pinball Magazine No. 5, so if you haven't ordered your copy yet, now would be a good time.
Pinball events for January and February:
That's all for now. Don't forget to check out the podcast and order your copies of Pinball magazine in the Pinball Magazine webshop.
Keep on flippin'!
Jonathan Joosten
Pinball Magazine