Vancouver Flip-Out 2018 report
Posted on September 9, 2018
As editor of Pinball Magazine, I've been invited to attend the 2018 edition of Vancouver Flip Out. This will be my first time attending the event, and besides reporting from the event, I will also be DJ'ing at the VIP Party on Friday night.
While the event starts September 7th, I booked my flight for September 5th. I chose a flight with a 7-hour transfer in Chicago, which would hopefully allow me to visit American Pinball or Stern pinball. As I won't be attending Pinball Expo in October due to a conflicting music business event, this would be my only opportunity this year to visit these companies. Due to bad weather, my flight to Chicago got delayed, and I only had time to visit Stern Pinball, who are located just 15 minutes from the airport.
At Stern, I had brief meetings with Zach Sharpe, Doug Skor, Gary Stern and ran into Jack Danger who was preparing his live stream of Deadpool Premium. On my flight to Chicago I had been able to watch the first two Deadpool movies, so while the game is not based on the movies at least I am a bit more familiar with the story behind the name. I got to play exactly one ball of about 20 seconds on the Premium model after which designer George Gomez walked in and needed the game to shoot some balls around himself. I mentioned to both Geoge and programmer Tanio Klyce that for a licensed theme the game has a rather easy way to understand and enjoy it if you're not familiar with the theme (like often is the case for me as I'm not into superhero comic books). When I mentioned watching the movies, George responded by saying he intentionally hadn't watched the second movie in the franchise as he didn't want to be influenced by it.
At that point, Chief Revenue Officer John Buscaglia came out of a meeting and took me into the factory where Deadpool Pro was on the line. Before we got anywhere, we ran into Joe Kaminkow, who was dropping by in between flights as well. Joe is currently involved in two upcoming games, which he couldn't say anything about other than that he has high expectations.
John the took me to the back of the factory he showed me Stern woodshop. Here they are cutting their own playfields. The screen printing is still done by a third party, but the clear coating is again done inhouse at Stern. John pointed to a brand new CNC router they bought recently. Having their own wood shop allows Stern but control their playfield supplies more than previously, when they had to order playfields from third parties.
When we walked back to the offices, John showed me some new T-Shirts that just were being stocked in the parts department. There are various new models, which became clear when I returned to the Dead Flip stream. The Chicago division of Belles and Chimes was playing the game, and each member was wearing one of the various new Stern T-Shirts. Those visiting Stern during the upcoming Pinball Expo tour will be able to choose between a nice variety of shirt designs.
To avoid getting stuck in rush hour traffic I couldn't stay much longer, as I had a plane to catch, but it was very nice that Stern allowed me to come over.
After a rather boring four and a half-hour flight to Vancouver, I arrived at the airport a little over 10 PM. Tommy Floyd was there to pick me up, and he was in the company of Mike Kalinowski of Homepin, who had arrived two hours earlier. Martin Ayub of Pinball News was flying in half an hour after me, and we decided to find a bar to kill time. After being sent to a bar that didn't serve drinks anymore as it was past 10:45, we headed back to the adjacent hotel and had a few drinks there. By the time we left the bar, Martin had already landed and taken a cab to his hotel.
Thursday morning I walked to the Roundhouse Community & Arts Center in downtown Vancouver, which is about a 10-minute walk from the hotel. The hotel is behind Granville street, which is where lots of bars and clubs are located. Some say it may not be the best neighborhood, but as I've been working as a DJ for over 30 years, I was right in my element.
At the Roundhouse, set up was in progress, and I helped with setting up games, aligning rows of games and such. I was surprised to see a large number of electromechanical games, at least one and a half row of games, out f roughly five rows of games. Later some very nice woodrails were set up to increase the number of games.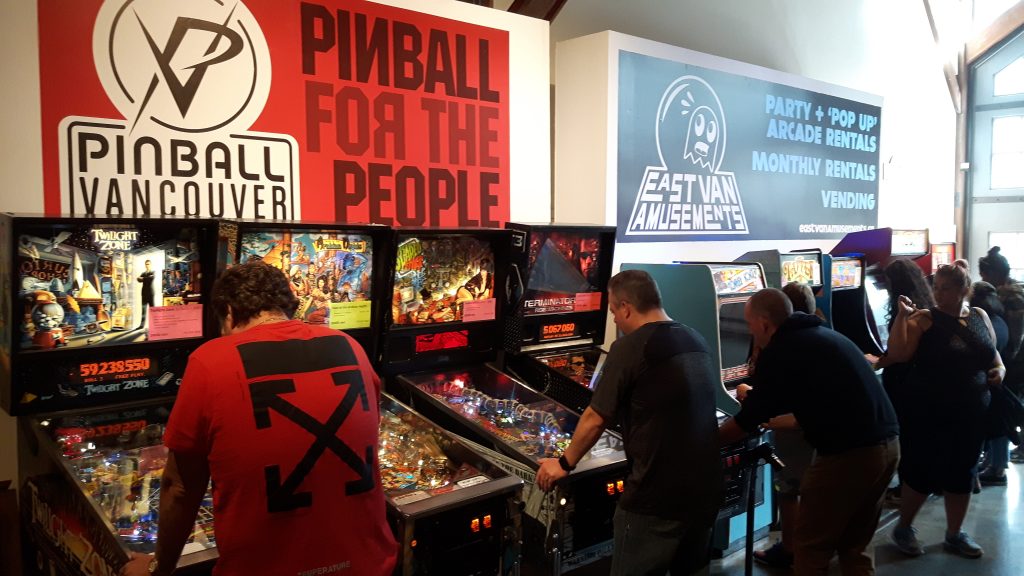 Homepin Mike and I quickly discovered the organic Urban Fare supermarket across the street that also served very decent breakfast and dinner meals. With such a supermarket and other shops nearby, it made me wonder why bother with getting foodtrucks in, which were located outside in a sealed biergarten area, but I'm sure they served a purpose.
Thursday evening the first tournament players started qualifying while set up outside the tournament area was still in progress. A very nice touch worth mentioning are the various banners that were made and applied as decals to various walls to decorate the registration desk, show the seminar program, and indicate which vendors were located where. It gave the show floor a very professional look. The Roundhouse itself reminded me a bit of Freddy's Pinball Paradise in Germany as both locations have a lot of wooden pillars holding up the ceiling.
Friday morning started with breakfast at the organic supermarket. I had shipped three boxes of Pinball Magazine No. 5 to the show, and two had arrived (Fedex lived up to their reputation of being a very inefficient shipper by splitting packages that go to the same address and losing at least one of them), which I picked up and left at the Nitro Pinball stand. I had made a list of copies to hand out to people and advertisers featured in the magazine, and while doing that, I took pictures with them for promotional purposes as well. I don't think I have used my Instagram account as much as I have this weekend. By now all the VIPs had arrived, all familiar faces, which always involves a little catching up with everybody when you run into them.
On Friday evening a VIP party was held in a separate room in the Roundhouse, which included a BBQ meal and me DJ'ing 80's pop/rock classics. The party was sponsored by Pabst Blue Ribbon, so there was plenty of beer available. As the table with DJ gear was rather low, I figured it would make sense to set the DJ controller and laptop on two 24-packs of PBR cans, which worked out very well. In between songs, Tommy Floyd would raffle off prizes, and after that, there were plenty of Pabst goodies available for everybody in the room. Antoinette Johnson and Jack Danger rocked the dancefloor. By 10:30 the party came to a close. Antoinette Johnson did a small surprise performance by singing a song from The little Mermaid acapella, showing that she also has a very good voice as well.
Following the VIP party, back in the main game hall, I watched Robert Gagno destroy Zekes Peke. This is an upright game similar to Ice Cold Beer, where the player has to use two joysticks to raise a metal bar with a ball on it to guide the ball through a maze of holes. There are ten holes where the ball is supposed to fall into, each one more higher up the playfield. After dropping the ball in such hole the player starts again at the bottom of the playfield. When I noticed Robert playing, he already went up to level 10 three or four times and rolled the 4-digit scoring on the game also several times. Stern Pinball's Jared Guynes was streaming this extraordinary event live from his phone. Robert would continue to play the game until the venue closed. He absolutely destroyed the game with over ten times completing level 10 and scoring over 50,000 points.
Saturday was the seminar day at Vancouver Flip Out. These seminars were held in the same room as the VIP party the night before. As it turns out the room has a foldout tribune in the back. I had never seen anything like that, and I found it a very clever solution.
The seminar program started with free pizza for everybody. After that everybody got seated and Joe Balcer kicked off the first seminar, accompanied by Nirmal Vasani of American Pinball. Joe talked about how he got started in the industry as a mechanical engineer and became a game designer at Data East. He discussed how he got hired by American Pinball in 2016 and took the existing Houdini layout and changed the playfield drastically into the current one. At the end of the seminar, Joe discussed his upcoming second game for American Pinball. Not only did he confirm the long-time rumored Oktoberfest theme, but e also showed some black and white images of details of the game. The full game title will be Oktoberfest Pinball on Tap (OPOT). The game will be family friendly. One of the characters in the game is named Otto, of which an image was shown as well. (improved images will be added later on)
The second seminar of the day had Mike Kalinowski of Homepin discuss how he got into pinball, and into pinball manufacturing. He discussed the long and rocky road he traveled in the development of Thunderbirds. He mentioned a second game is in the works, which is intended to aim at the Chinese market. The game will have a familiar, unlicensed theme that may also work in the Western world.
The third seminar of the day was hosted by Butch peel and Jack Guarnieri of Jersey Jack Pinball. Butch was mostly operating the slideshow while Jack commented on the photos shown. Many of these showed Jack at various pinball shows all over the world with distributors and customers. He also showed several photos from when he started as a repairman in the industry in the mid-'70s, and he discussed the games the company has been making so far. At the beginning of his seminar, Jack also gave a nice plug to Pinball Magazine for being such a hefty publication. Thanks, Jack!
Saturday evening Tommy took all the special guests that were still around to a nearby restaurant for a nice dinner. Following that six of us got in a cab to visit Bill Brandes, who lives in Vancouver and has a very nice collection of pinball games in pristine condition. Bill also had one of the very few Kill Bill (a rethemed and modified World Cup Soccer)  games at his house, which allowed me to play some games on that. I didn't stay too late but appreciate the hospitality of Bill to invite us over.
Sunday morning I wrote most of this report and arrived around noon at the Roundhouse. At many pinball shows that I have attended the Sunday usually is a "quiet" day. To my surprise the Sunday at Vancouver Flip Out turned out to be the busiest day of them all. Up to 4 PM every available game was occupied most of the time.
As I usually don't participate in tournaments I don't report on them, but the variety of tournaments to participate in at the show must have been great for tournament players. Aside from a main tournament, I recall there also were the Jurassic Classics, a women's only tournament and a knock out tournament on Sunday.
Sunday evening at 6:00 PM the show shut down. I helped packing up games until 10:30 PM. This was the first time the Vancouver Flip Out was held at the Roundhouse, but the location was absolutely great. From what I hear the turnout was great, so hopefully the event will be back at the Roundhouse next year. A big thank you to Tommy and Suzanne Floyd for organizing this event and all volunteers that helped make it possible by donating their time and/or games. I look forward to coming back to this event in years to come.