Kickstarter campaign for new pinball book
Posted on November 5, 2017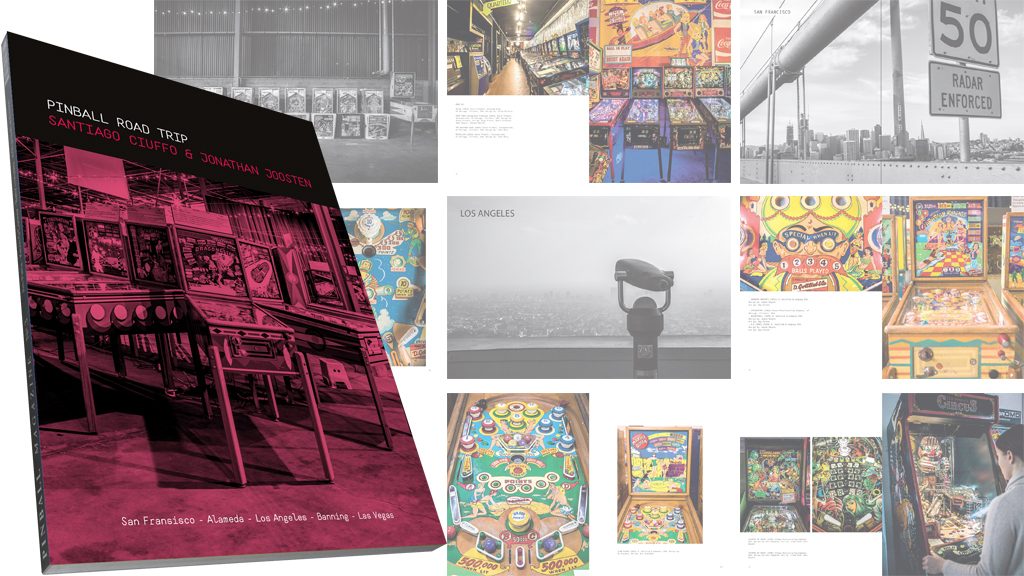 Pinball Magazine just launched a Kickstarter campaign to fund a new coffee table photo book by Argentinean photographer Santiago Ciuffo. The new book is called Pinball Road Trip and features photos of pinball machines located in California and Las Vegas.
The Kickstarter campaign background story informs those interested on how the idea for the book came about during a road trip that was set up to take photos of as many Wayne Neyens designed games, to be featured in the upcoming 5th issue of Pinball Magazine. Besides photos of pinball games, the new book also includes photos of the sights and cities encountered during this trip, which adds a bit of a story to the book. It also further shows Santiago Ciuffo's talents as a photographer in other settings.
Pinball Magazine published Santiago Ciuffo's first coffee table photo book, PINBALL, in 2014, which has been a steady seller ever since in the Pinball Magazine webshop. For those who don't have that first book yet, it is offered as part of a package deal when supporting the current Kickstarter campaign.
While the first book wasn't funded via Kickstarter, Pinball Magazine editor Jonathan Joosten decided to take the Kickstarter route, as it would indicate how much demand there will be for the book, as well as potentially reach a wider audience for the book than solely pinball enthusiasts. Contrary to many projects on Kickstarter the book is almost finished and should be taken to print within a few months after a successful funding campaign. All photos have already been taken, selected and prepared for the new book. The only thing currently still being worked on is the story for the various chapters.
The Kickstarter campaign launched November 5th and will run for 30 days, until December 5th. The goal of the campaign has been set at 25,000 euro. The campaign can be backed by pledging 35 Euro or more plus shipping. To fund this campaign, visit the Kickstarter campaign page now!
Update December 5th: Although raising over $10,000, the goal of the campaign wasn't met and as such the project didn't get funded. Pinball Magazine wants to thank all who pledged. All backershave received an update including a link to a "Thank you" giveaway. Maybe the book can be realized when funded alternatively.