Report: 11th Flip Expo, Le Tréport, France
Posted on April 10, 2017
For several years I've been attending Flip Expo in Le Tréport. The 11th edition was held the weekend of April 1 and 2 and took once again place in the same venue as previous issues. I was traveling with Ad Jonker, who usually brings two games to the show. This year was no different. Ad was bringing a Gottlieb Hoops and his newest game: Quetzal's Captain Nemo.
Where in previous editions the organization had tried to get some new games to the show for their visitors to play, this year there were actually several new games present. ZPeakabonks Pinball Paradise had brought Jersey Jack Pinball's The Hobbit and Dialed In as well as a Stern Star Trek Pro. Flipper France was representing Heighway Pinball with a Full Throttle and an Alien prototype. All these new games were set up in the vendor hall. Ad Jonker's Captain Nemo was set up in the regular game hall. Also present was a Stern Batman LE, but only for display purpose and not available to be played. Reasoning behind this was the owner of the game didn't want the playfield to become dimpled, which appeared to be happening after a few games were played.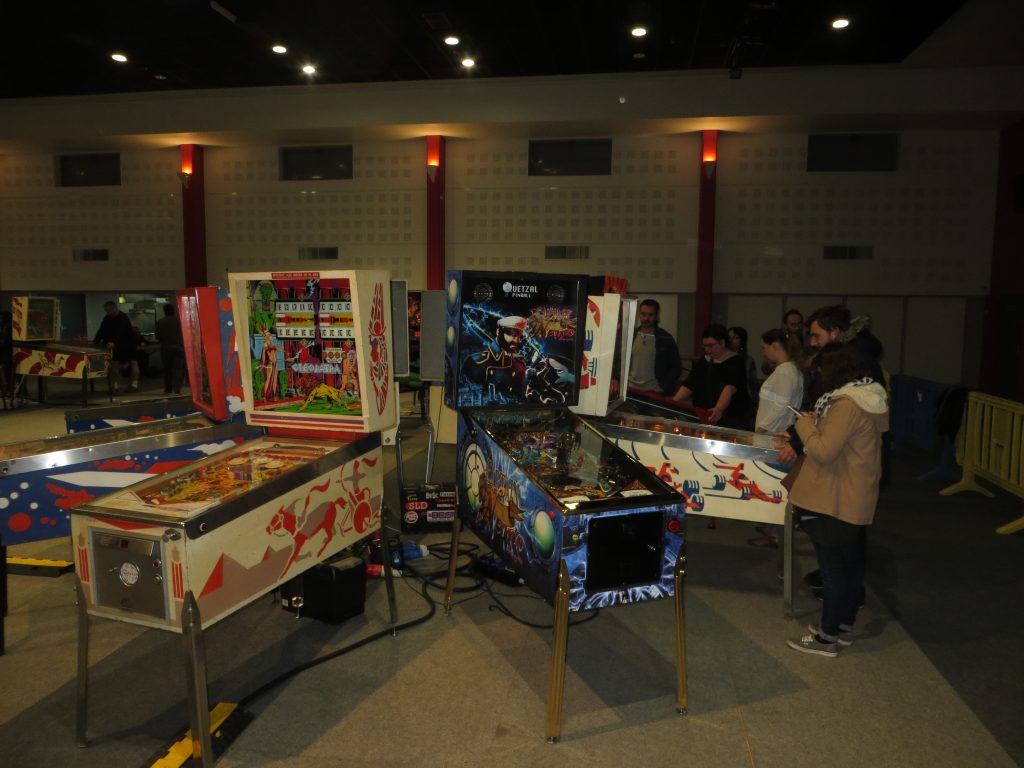 While we're on the subject of games at the event it can't be ignored that the main game hall seemed to be having less games than previous years. Similar to last year the games were set up in circular isles, but compared to last year it seemed that several isles were missing, leaving large gaps on the show floor. As the show depends on people to bring their games, it appears that since games are becoming more expensive more and more people prefer not to take them to shows anymore.
While the number of games may be less than last year, the games present still offered a wide variety of games to play, ranging from electromechanical games from the '60s up to recent Sterns and the earlier mentioned Captain Nemo – which was played non-stop during show hours. Here's a complete list of all the games present at the show:
Free play area
AC/DC Pro
Amazon Hunt III
Back To The Future
Bad Girls
Batman LE
Big Hit
Bird Man (Sonic)
Black Knight 2000
Black Rose
Buck Rogers
Captain Nemo
Cirqus Voltaire (2x)
Cleopatra EM
Cobra (Bell Games)
Cosmic Gunfight
Countdown (2x)
Creature from the Black Lagoon
Diamond Lady
Dragon
Fast Draw
Fireball II
Firepower
Frankenstein
Fun Land
Grand Prix (Stern)
Grand Prix (Williams)
Harley Davidson (Stern)
Heavy Metal Meltdown
Hot Hand
Iron Man
Johnny Mnemonic
Monster Bash
Mystic (2x)
Night Rider
No Good Gofers (raffle game)
Paragon
Pinball Pool
Scared Stiff
Silverball Mania
Space Walk
Spectrum
Star Trek (Bally)
Star Wars (Data East)
Striker Xtreme
Supersonic
Surf Champ
The Hobbit
Time Machine
Torpedo Alley
Transformers Pro (2x)
Viking
Whirlwind
Tournament games
Attack from Mars
Avatar
Devil's Dare
Dirty Harry
Ghostbusters Pro
Godzilla
Hoops
Pirates of the Caribbean
Star Wars (DE)
The Getaway
Vendor Hall
Alien
Attack from Mars
Dialed In
Full Throttle
Mr & Mrs Pac-Man
Oxo
Star Trek Pro
Surf Champ
Terminator 2 (PinSound)
The Addams Family (PinSound)
The Hobbit
World Poker Tour
Throughout the weekend several tournaments were being organized and run by Nico-Flip. Saturday's main tournament was won by Wayne Johns from United Kingdom. There was also a children's tournament and another tournament on Sunday afternoon.
In the vendor hall Zpeakabonks had set up a booth that was almost the length of the room, with all sorts of new pinball parts being offered. Other vendors included familiar names as High Class Playfields, Pascal Janin, Flipper France, GameCastle as well as some more local known vendors of used pinball parts, pinball flyers, virtual pinball machines and several booths of non-pinball related items.
Of the new games in the vendor hall Dialed In and Alien both had small lines of people waiting to play. Dialed In appeared to be the game people appreciated most of these two. Interesting to note is that people would only play a single game and then make room for others in line to play. As lines weren't that long it usually took about one or two 4-player games before one could play again.
As I had not been able to play Alien in Texas, I tried the game on Sunday. On my first game the game started launching balls for no reason. After a reboot the second attempt went better, but as I'm not familiar with the movies I'm not familiar with any of the characters either. Sure that doesn't stop me from shooting the blinking lights to find Jonesy, but I can't say that the game pulled me in. Nothing short of the great work by David Thiel (sounds and music), Dave Sanders' playfield design and the Californian programming team, but I guess I'm more into more humorous type of games. In that respect Dialed In is an absolute winner for me. Even while dealing with all sorts of disasters, the game manages to bring back the subtle humor known from Bally Williams games from the late '80s and '90s. Pat Lawlor's concept and design skills shine in every element of the game. Add to that the impressive animations by Jean-Paul de Win, a spot on sound package with plenty of variety in voice calls and rules that are easy to understand, but challenging enough to keep you coming back. After a few games I figured out out to stack two multiballs and were the big points are to be scored. On Sunday afternoon I was able to put up High Score #1 (959.020 points) 🙂
Having been to various pinball shows in the U.S. as well as in France, the French shows differ from the American shows. In general the French shows seem to be more like fun for the whole family. The entrance price at the door may have something to do with that. For only 3 euro you're in and can play pinball all day! A side effect of that entrance price seems that many locals will come in to take a look. They stay for just an hour or so and then leave.
One unmistakable aspect of the French shows is the happy hour. Usually this takes place when the show closes for public, but on the Saturday at noon there was also a happy hour in the vendor hall. Aside from some salty snacks and soda I was introduced to Ricard, an anise flavored liquor of 45% alcohol. In the bottle the drink is transparent, but when mixed with water it crystallizes and becomes a beige-colored drink. Very nice! It was a good thing I was playing a game when the alcohol kicked in as I had something to hold on to and keep me standing.
Unlike most U.S. shows there was no evening program, which again is pretty common in France. The show ran until 6 or 7 PM and then closed for the public. For vendors, organizers and those who brought games a dinner was organized on the Saturday evening. Prior to that there was another happy hour. After dinner and dessert the games were turned back on and could be played until midnight, or even later.
Every year the Flip Expo organization organizes a raffle in which a pinball machine can be won. This year a No Good Gofers was the main prize. Tickets cost 5 euro. The game was raffled off on Sunday afternoon around 4 PM. After that the show went on for another hour.
Once again the Flip Expo organization can look back at a great event that ran very smooth the entire weekend. As it turns out the show even broke its own attendance record of last year's show. Last, but not least: The other attraction at the show was this breeding duck who had her nest made up in a planter just outside the main entrance.
For more info: www.flip-expo.fr