Free PM 1-year anniversary interviews (part 1): Jack Guarnieri (JJP)
Posted on August 26, 2013
To celebrate Pinball Magazine's first anniversary we're publishing not one, not two, but three up to the minute interviews with Jersey Jack Pinball crew members.
The first interview is with Jack Guarnieri, owner of Jersey Jack Pinball, to coincide with the unveiling of the full playfield layout for The Hobbit, which will be released in 2014.
The second interview is with pinball designer Joe Balcer, who designed the playfields for The Wizard of Oz and The Hobbit.
The third interview is with Wizard of Oz animator Jean-Paul de Win, who will also do the animations for The Hobbit.
Interview with Jack Guarnieri, owner of Jersey Jack Pinball 
PM: Jack, congratulations on delivering the first Wizard of Oz games to customers.JG: Thank you. It's been very interesting to do, as you know.
PM: Congratulations also on revealing the blueprint for The Hobbit playfield design.
JG: Thank you. Do you like it? Can you tell what it is?
PM: I think I can sort of see what is going on.
JG: It's hard to… because obviously there's a lot more to come. Another unseen and important part in a pinball machine is the rules.
JG: I can talk about it, but the best person to talk to about the playfield is Joe Balcer, the designer because it is from his mind, and Keith's mind, that the playfield came. But I'll be happy to give you whatever I can from my brain.
PM: Are you worried that some Visual Pinmame programmer will take the layout of The Hobbit playfield that you have unveiled and turn that into a flipping virtual whitewood?
JG: (laughing) I tell you, I didn't think of that. Now that you mention this, I know that people did that with Wizard Of Oz. We should get some of those people to come work for us. (laughing)
PM: Well, you could use a virtual playfield like that as a promotional tool.
JG: That's true. It's a very good point and a very good idea. You know that I love pinball, so to me any way that you can get more pinball is a good thing.
PM: The layout of The Hobbit looks very symmetrical…
JG: That's true. It's a little different to some of the other layouts that have been done lately. I think it gives the player a lot of different options.
We came from a game with one ramp and one drop target. Now you see multiple ramps, multiple drop targets, and other things that look interesting, or curious. People are speculating: "What's this, what's that, what's this going to be, what's that going to be?"
PM: People are speculating on various pinball forums about what the four rectangular items will be. They could be pop-up trolls like in Medieval Madness, or pop-up ball locks, or trap doors like on Theatre of Magic, or something else.
JG: I really think you should talk to Joe about this. I don't know if Joe would mind me revealing that right now. I want to try to respect his wishes more than I did with Wizard of Oz.
With The Hobbit we want people to know what is going on, but there is a line between saying what we are doing, and revealing what the game is going to be.
We still want to show the blueprint for a number of reasons. Obviously people are paying money and they are excited to understand what we're doing and we are showing them that. I don't want to say: "Give me some money and at the very end here's the meal I cooked for you and I hope you like it."
Going back, a couple of years ago, my hope was that we could build an audience around the world pushing pinball by giving it a little bit more attention. And also that we could build a game that got more people to play pinball.
PM: How do you see the operator's market these days?
JG: There are many operators that love pinball machines and operate them. But every operator is looking for better earnings. If you talk about a pool table, a dart game, a jukebox, all those things are steady earning games on street locations.
We've been operating Wizard of Oz since March. We had some on location and some games were already doing five or six hundred dollars a week. They were making that kind of money not the first week or the second week, but the third week or the fourth.
If we were building a game and it was only for operating on location – let's say it was 1992 so there was no home collector market – we would already have accomplished our goal. But we are not only building for the home market.
Multiple audiences
But we are actually building for different audiences. There's the commercial audience, including some of the hobby people who play on location too. We want to attract the casual player, who we need to be able to walk up to the game and understand what they have to do. We don't want to frustrate them by making the game too difficult for them.
We also need to attract and keep more skilled players, and we do that by bringing them into the game more and more every time they play the game. Wizard of Oz is designed to make more money in the tenth week than the ninth week, or the eighth week, or the seventh. It's a game that's designed to have more and more unfold to keep the challenge there for that type of player, so that they come back and play the game again and again.
The players today are a lot more sophisticated and a lot smarter than they were in 1992, because everybody now has a mobile device and there are many other things to keep them amused on location.
So at a location like I-Play America in New Jersey  you have a crane that you could win an iPod on. Anyone with a dollar has to decide what to put that dollar in to.  This is what you're competing against in today's market, as opposed to what a game like The Addams Family – which is a spectacular game, by the way – was competing against in 1992.
PM: As for The Hobbit, is there any chance we can play a flipping whitewood at Pinball Expo in October?
JG: That's a question for Joe. We're in the middle of August now, so that's two months to Expo. I'm pretty certain they will have a flipping whitewood by then.
Pinball designers design things in different ways. Some of them build up multiple whitewoods, play them and change them. Some of them do it in a virtual sense. But the reality is that you need a physical game. You shoot shots and you see what works and what doesn't work. You don't know what it's going to be from lines and circles on a piece of paper.
Sometimes there are not so good playfields that are great games because of the rules. And sometimes there have been good playfields that become crappy games because of the rules.
When we did Wizard of Oz and brought it to Expo last October, the game was basically a box of lights. It was like geometry, some lights, and some toys,  and people shot it around. It really didn't start evolving until a couple of months later when Keith and Ted started sticking all these modes and rules into the game.  Keith loves deep games and Ted has programmed some great games, too, like Twilight Zone.
PM: Is The Hobbit likely to be similar to Wizard of Oz in many respects?
JG: The hope is that we can do one game like Wizard of Oz and then the next game will be completely different.  I think that's a challenge and that makes it very interesting. It's not as exciting or fresh if you use the same mechanisms, the same kind of toys and the same kind of layouts. I think everything has to continue to evolve and grow.
Obviously this is my opinion, based on my thirty eight years in the industry as a technician, as an operator, as a distributor and now as a manufacturer. We take a lot of suggestions from our customer base and from our player base.  We don't know everything, we're still learning. We hope tomorrow we're better than today.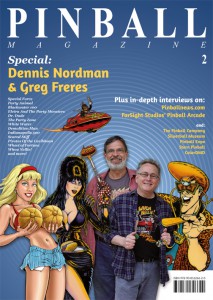 Stay tuned for the interviews with pinball designer Joe Balcer and LCD animator Jean-Paul de Win, which will be published later this week.
For more Pinball Magazine interviews: check out Pinball Magazine No. 2: 188 pages of in-depth interviews with Bobby King (The Pinball Arcade), Rob Berk and Mike Pacak (Pinball Expo), Randy Perlow and Chris Enright (ColorDMD), Rob Ilvento (Silverball Museum), a career covering cover story on pinball designer Dennis Nordman with lots of input from graphic artist Greg Freres and contributions from pinball industry veterans such as Pat McMahon, John Youssi, Doug Watson, Chris Granner, John Popadiuk, Steve Ritchie, Roger Sharpe, Cassandra Peterson (Elvira) and others.