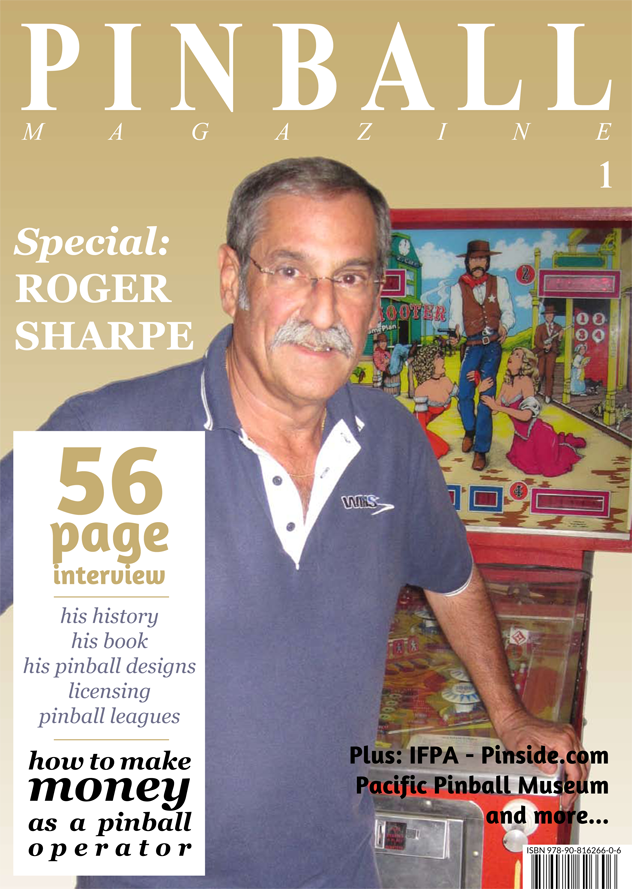 Pinball Magazine No.1:
112 full color pages on quality paper
According to many more a coffee table book than a magazine
Huge interview with Roger Sharpe
Others about Roger, including contributions by Gary Flower, Larry DeMar, Gary Stern, Josh Sharpe, Zach Sharpe, Steve Epstein, Dennis Nordman, Greg Freres and others
International Flipper Pinball Accosiation 2.0, interview with Josh and Zach Sharpe
A look on the inside of Pinside.com, Interview with Robin and Martijn van Mourik
Exploring the Pacific Pinball Museum, interview with Michael Schiess
and more
To get an idea what Pinball Magazine looks like, see the preview magazine with sample pages from the magazine below.
Or watch the short video below:

In case you wonder how others responded when they got their copy of Pinball Magazine No. 1, please take a look at the Feedback page.
Please note:
Due to the current agreement with DHL Pinball Magazine is mailed out in batches. Orders will be collected until the required minimum number of items to ship has come in. Then the magazines are send out. Sending out each order the day it is placed will increase the postal costs significantly.
On the Homepage of this website is mentioned when the last batch shipped out and when the next batch is expected to be send.  So, in some cases it could be that it takes a little time before your copy gets send out. If you don't want to wait, please place your order and send a message via the contact page. You will then be quoted what the additional costs will be to ship your copy sooner.
Postal costs calculated in the webshop range from US $ 4.25 (The Netherlands) to US $ 8.75 (Australia, South America). Items destined outside Western Europe will mail out as priority mail and are priced as such. 
Providing correct postal address details is your own responsibility. Entering an invalid postal address will not only result in the magazine not arriving, but additional postal costs when the correct address is provided.